Even in Scottsdale, AZ, natural disasters, including fires and floods, can cause substantial damage to commercial properties like warehouses, office buildings, and retail stores. In such a case, the property can suffer extensive damage. Not only may the building itself become severely damaged, but the equipment and content inside may be ruined as well.
With our commercial large loss services, ServiceMaster All Care Restoration helps commercial properties that have suffered large-scale damage from a disaster. Regardless of the amount of damage suffered, we can help restore your building and any content.
Flood and Fire Damage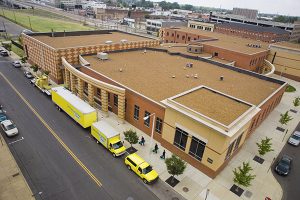 We primarily address extensive water damage as well as damage from fire, smoke, and soot. These disasters can cause permanent damage to your content and ruin the structure of your building. With an immediate response, our technicians are able to limit the damage, preventing it from worsening while we conduct the restoration. This helps get your business back in a timely, efficient manner.
Commercial Flood Damage Restoration
Many building materials, such as drywall and wood, are porous. This means they absorb water, which is why floodwater causes so much damage to a property. Such building materials will keep absorbing the water, increasing the risk of structural issues.
Our highly trained technicians will start by finding the source of the water and stopping it to prevent more damage from occurring.
Before we continue with the restoration process, we remove excess moisture with our advanced water extraction and drying equipment.
Commercial Fire Damage Restoration
It's no secret that fires can result in serious damage. But what causes the most damage is actually the resulting smoke and soot, because they travel through the air and cause damage after the fire is out.
The damage caused by smoke and soot includes discoloration, etching, and corrosion. If not treated in a quick enough manner, then the damage risks becoming permanent. This is why our technicians will begin the restoration with emergency pre-cleaning services.
We use specific cleaning equipment and chemical cleaners for the pre-cleaning process. Afterwards, we will complete the rest of the restoration process, including the repair of structural damage.
Complete Commercial Restoration
We are available on a 24/7 basis to perform our services and respond to emergencies. We will determine the source of the damage and assess the extent of the damage during our initial inspection. Then, if necessary, our technicians provide emergency pre-cleaning to prevent the damage from becoming permanent.
Soot, water, and any other hazardous elements are removed. Then we restore affected materials including building materials, operating equipment, electronics, furnishings, personal items, important documents, and more.
With our services, we strive to effectively and efficiently restore your property to its original condition.
We will help damaged businesses in Scottsdale, AZ, recover after a disaster.
Call (480) 717-3030 for more information regarding our commercial large loss services.
---
January 13, 2020
Renate and James Llewellyn
Phoenix, AZ
January 9, 2020
The team was out here very quickly to sop up the mess and start dehumidifying everything. They were friendly and answered as many questions as they could. The office called to coordinate appointments and then to let me know when the team would be arriving (a 2 hour window). The team would call or text to let me know when they would be arriving in the next 1/2 hour.
See All Reviews