Se habla Español
Disasters such as fires, floods, and mold affect much more than just the structural elements and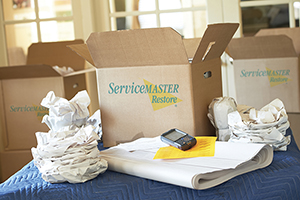 furnishings of your home, personal items are also often affected by the damage.  ServiceMaster All Care Restoration provides content cleaning and pack-outs to homeowners in Scottsdale, AZ to clean and restore personal items that have been damaged in a disaster.  We can clean your content onsite or pack them up and transport them to our facility for more thorough cleaning and restoration.
When a disaster such as a fire or flood occurs, the damage often spreads to personal items and if they are not cleaned up or restored right away, they could become permanently damaged.  The technicians of ServiceMaster All Care Restoration can effectively clean and restore a variety of personal items using our advanced cleaning products and equipment.  If it is safer or more effective to clean your content off-site, then our technicians will carefully pack-up your content and bring them to our facility for cleaning and storage.
Content Pack-Out Services
Pack-out services may be performed under certain circumstances such as when more thorough cleaning methods are required to restore your content or when your home is left in an unstable condition.  Our technicians take a full, detailed inventory of every item as we pack up your belongings and we provide you with a complete list of the inventory.  We then transport your content to our secured facility where we can provide proper cleaning and restoration and store them securely until you are ready to have them back.  Your contents will be delivered back to you in our trucks.
The focus after a disaster is usually to repair and restore the structural elements and furnishings of your home but you must not lose sight of your personal items because they can become permanently damaged as well.  Contact ServiceMaster All Care Restoration for content cleaning and pack-out services in Scottsdale, AZ.  We can be reached anytime at 480-717-3030 to help clean and restore your personal belongings after a disaster.
---
January 13, 2020
Renate and James Llewellyn
Phoenix, AZ
January 9, 2020
The team was out here very quickly to sop up the mess and start dehumidifying everything. They were friendly and answered as many questions as they could. The office called to coordinate appointments and then to let me know when the team would be arriving (a 2 hour window). The team would call or text to let me know when they would be arriving in the next 1/2 hour.
See All Reviews