In the wake of a disaster, whether it's a fire, flood, or any unexpected calamity, the path to recovery often begins with restoring your living environment. That's where our comprehensive content cleaning and pack-out services in Phoenix, AZ, come into play. At Fast Track Restoration AZ, we understand the turmoil that disasters can bring, and we're here to help you regain control of your life. Call Fast Track Restoration AZ today on (480) 781 4836 for Expert Content Restoration in Phoenix, NV. We work with insurance claims and provide free estimate.
List of Items That May Require Content Restoration:
Furniture: Wooden, upholstered, and leather furniture can suffer damage from water, fire, smoke, or mold. Our content restoration services includes cleaning, refinishing, and reupholstering to bring them back to life.
Electronics: Water damage and smoke residue can affect electronic devices. Our professionals clean and restore TVs, computers, and other gadgets to working order.
Artwork: Paintings, sculptures, and other artwork can be delicate and sensitive to environmental changes. Our content restoration experts specialize in cleaning and repairing art to its original condition.
Clothing and Fabrics: Garments damaged by fire, water, or mold can often be restored through specialized cleaning and treatment.
Photos and Documents: Heirloom photos and important documents may seem lost after a disaster, but our content restoration experts can often salvage them, removing stains and restoring legibility.
Books: Water-damaged books can often be saved through drying and cleaning processes.
Kitchenware: Valuable or sentimental kitchenware can be cleaned, polished, and restored to its original condition.
Collectibles and Figurines: Collectible items like figurines and action figures can be cleaned and repaired by our experts in content restoration.
Decorative Items: Decorative items such as vases, figurines, and sculptures may require cleaning and repair after a disaster.
Professional Content Cleaning in Phoenix, AZ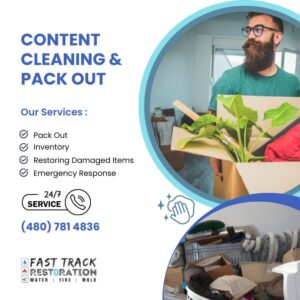 Our content cleaning services include the following:
Soot and Smoke Removal: If your property has suffered a fire, soot and smoke residues can blanket your belongings. Our expert technicians use advanced cleaning techniques to meticulously remove these residues, restoring your items to their original condition.
Water Damage Cleanup: Water damage can lead to mold growth and the development of unpleasant odors. Our content cleaning specialists address water stains, mold, and mildew, ensuring your belongings are free from moisture-related damage.
Mold Remediation: Mold thrives in damp conditions. Our certified professionals are trained to identify and safely remove mold infestations from your belongings, preventing further damage and health risks.
Professional Pack-Out Services in Phoenix, AZ

In certain situations, the restoration process may necessitate the temporary removal of your belongings from the affected property. Our pack-out services encompass the following:
Secure Packing: We pack your items with the utmost care to ensure they are protected during transportation and storage.
Inventory Documentation: Each item is meticulously documented, providing you with a comprehensive record of everything entrusted to us.
Transportation: We safely transport your belongings to our secure facility, where the restoration process can commence without hindrance.
Cleaning and Restoration: Our team of experts cleans and restores your items, from furniture to personal possessions, to their pre-disaster condition.
Storage: Your belongings are stored securely in our facility until your property is ready to welcome them back.
Phoenix AZ's Best Content Cleaning Services:
If your home has sustained significant damage in a disaster that has affected your personal belongings, call Fast Track Restoration AZ for content cleaning and pack-out services in Phoenix, AZ.  Our technicians will carefully inventory and pack up your personal items before taking them to our facility for cleaning and restoration.  We can be reached 24 hours a day at (480) 781 4836.
---
Related Services Near Phoenix, AZ:
Content Cleaning Restoration Mesa, AZ
Contents Pack Out Company Scottsdale, AZ