Se habla español
A fire is one of the most destructive disasters that can happen to a home or building and the damage will continue to spread even after the flames have been put out.  ServiceMaster All Care Restoration in Phoenix, AZ specializes in fire damage restoration and repair.  Once the fire is out, our expert technicians will minimize the damage and start the cleanup process after quickly assessing the situation.
Fire Restoration and Smoke Cleanup


The technicians of ServiceMaster All Care Restoration are trained and qualified to effectively clean up fire damage and repair the damaged furnishings and structural elements of your home.  We use the best available methods, equipment, and cleaning products to restore your home or business to its previous condition and we also work with insurance companies to help the claims process go smoothly.  The corrosive byproducts and chemicals emitted from synthetic materials after a fire can cause the damage to keep spreading so make sure to call immediately after the fire is extinguished.
Our full fire damage restoration process includes:
Pre-cleaning and content cleaning
Fire restoration and cleanup
Soot cleanup
Deodorization
Construction services
Smoke Damage Restoration
At ServiceMaster All Care Restoration, our technicians are also trained to remove soot damage and odor from the smoke.  Using specific chemical combinations, we can treat at-risk surfaces such as brass,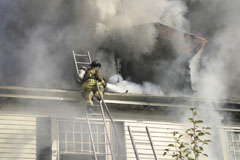 marble, porcelain, aluminum, stainless steel, carpeting, and upholstery to prevent permanent soot damage.  The odor that is left behind by the smoke can also be removed from the structural elements, furnishings, and air in your home.
If your home or business in Phoenix, AZ sustains significant damage from a fire, contact ServiceMaster All Care Restoration immediately after the fire is put out.  Our highly trained technicians will respond quickly to limit the damage and restore your home or building to its previous state.  We are available 24 hours a day at 480-717-3030 to take your call.
If you experience fire damage to your commercial or residential property, don't hesitate to call us, ServiceMaster All Care Restoration, Phoenix AZ at 480-717-3030.
---
Recent Reviews
Review by

Beth Gaspadarek
Rating

"These guys were very quick about responding to my call. I was away for a couple of days and my bathroom sink sprung a leak. They were very nice and professional."