Se habla español
Water and flooding can cause extensive damage in your home or commercial property and if the damage is not mitigated quickly, it could spread or result in mold.  At ServiceMaster All Care Restoration in Phoenix, AZ, we believe that a quick response time to water damage can help minimize losses and save a great deal of money.  Our technicians have the training and experience to provide professional water damage restoration services using the best methods and equipment of the industry.
Water Restoration and Flood Cleanup


The building materials, furnishings, and structural elements of your home will continue to absorb excess water which is why it is important to call ServiceMaster All Care Restoration once you discover the damage.  We ensure that our licensed and qualified technicians will extract the excess water as well as disinfect the area to prevent mold and mildew from forming.  Our water damage cleanup services begin with a complete inspection of every checkpoint of your home or building to assess the damage and determine the best restoration solutions.
Throughout the process, we are committed to keeping your property safe and secure.  Our full water damage restoration services include the following:
Full inspection to identify the source of the damage
Complete water extraction
Evaluation of building materials and furnishing such as carpeting, flooring, walls, ceiling, and insulation
Deodorization and application of anti-microbials
Use of high velocity air movers
Assistance with insurance claims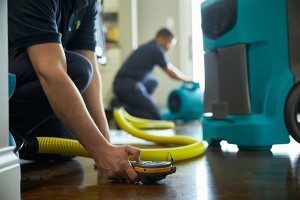 Contact ServiceMaster All Care Restoration in Phoenix, AZ for water damage restoration as soon as you discover excess water or flooding in your home or building.  We work with your insurance provider to assist with the claims process and we also speak Spanish to better serve our customers.  Our phone lines are open 24 hours a day, 7 days a week to provide a quick response to your water damage and flooding emergencies.
Call us, ServiceMaster All Care Restoration, Phoenix AZ at 480-717-3030 for all your water restoration and repair needs.
---
See All Reviews