Se Habla Español
Water damage is one of the most common forms of damage found in a home or building but if it is ignored, it can spread quickly throughout a building and even cause mold to grow.  There are several ways water damage can occur including leaks from burst pipes or appliances, flooding, and heavy rain and a quick reaction is the best way to limit the damage.  ServiceMaster All Care Restoration provides water and flood damage cleanup services to homes and businesses in Scottsdale, AZ.  We respond immediately to mitigate your losses and begin repairing the damage.
Water and Flood Damage Restoration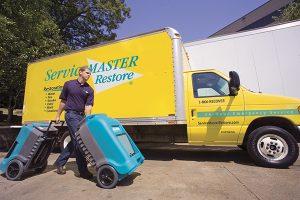 The furnishings and building materials of your home or office such as wood, drywall, and insulation absorb excess water rather quickly which makes it important to call ServiceMaster All Care Restoration as soon as you notice the damage.  Each of our technicians is licensed and certified to remove excess water and repair the damage it caused using the most advanced equipment and cleaning products available in the industry.  Every water damage restoration project begins with an initial assessment of the damage and an inspection of every checkpoint in your home to determine the best way to approach the restoration.
Our technicians are dedicated to protecting your property throughout the process which will include the following services:
Location and repair of the moisture source
Water extraction
Evaluation of all building materials and furnishings including carpeting, walls, and insulation
Odor removal and anti-microbial application
Drying with high velocity air movers
Assistance with insurance claims
Excess water and floods can cause extensive damage if it is ignored that could also include mold growth.  Make sure to call ServiceMaster All Care Restoration as soon as you discover water damage in your home or building in Scottsdale, AZ.  Our trained and certified technicians will completely remove the water or moisture and repair any resulting damage.  Call us anytime 24 hours a day at 480-717-3030 for water damage cleanup services in Scottsdale.
---
January 13, 2020
Renate and James Llewellyn
Phoenix, AZ
January 9, 2020
The team was out here very quickly to sop up the mess and start dehumidifying everything. They were friendly and answered as many questions as they could. The office called to coordinate appointments and then to let me know when the team would be arriving (a 2 hour window). The team would call or text to let me know when they would be arriving in the next 1/2 hour.
See All Reviews