Fires, floods, mold, and other disasters can effect more than just the building materials in your property; personal items and furnishings can also be severely compromised. Especially for items with significant value, immediate action should be taken to restore these items as well.
Fast Track Restoration AZ is available in Tempe, AZ to provide content cleaning and pack out services to completely restore documents, belongings, assets, and more. Each of our technicians have been expertly trained and experience in restoring contents of all types. We can also work with your insurance provider during the claims process to ensure additional peace of mind.
Disasters that Require Content Restoration:
When a disaster or accident destroys a property, the damage often spreads to personal belongings. If they aren't restored or cleaned right away, the damage can even destroy the items. Some of the most common hazard that can spoil your furnishings, electronics and other personal items are mentioned below:
Fire Damage
Smoke Damage
Soot Damage
Sewage Issue
Pests
Animal Loitering
Storm, Floods, Rain
Earthquakes
Frigid weather
Content Cleaning and Pack Out Services in Tempe, AZ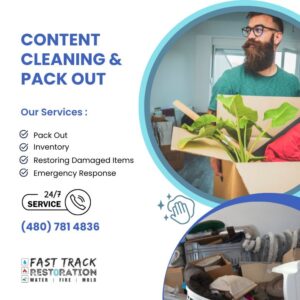 Fast Track Restoration AZ can provide hand-cleaning, machine-cleaning, deodorization, drying, stain removal, sanitization and refinishing services as for your contents. This process can also be conducted off-site if your property is unable to provide the suitable conditions for the cleaning services. Through our pack-out services, your belongings will be brought to our facility, where they will be restored and kept until the restoration process on your home or building is complete.
There are a variety of situations why you may need pack out services, including when additional cleaning methods are needed to restore contents or when the property is too damaged for the service to take place on-site. Our professionals will begin by sorting the items that will be restored, creating a detailed inventory of each item. They are then packed up and transported to our climate-controlled facility where they will be safe from fire, theft, or other disaster. Then when your property is fully restored, we will bring your items back as soon as you are ready. Finally to conclude the service, we will work with your insurance provider during the claims process to ensure additional peace of mind.
Our Step by Step Content Recovery Process Includes the Following:
Emergency Response
Inspection of the affected area
Content Analysis
Documentation
Inventory
Pack Outs (if needed)
Cleaning, spraying, sanitizing and deodorizing
Return of contents
Call us for Content Cleaning in Tempe, AZ
Did your property just experience a damage? Do not wait. It is crucial to call for professional restoration service immediately after a disaster, as personal contents must also be restored. In fact, restoring them to their original condition is much more cost-efficient than replacing them. It can also be difficult to replace some items as many include family heirlooms, documents, and collectibles. Fast Track Restoration AZ is available at (480) 781 4836 in Tempe, AZ to provide emergency content cleaning and pack out services. Local experts. Licensed.
With our reliable and trusted service, now you can restore your personal belongings, business investments and  peace of mind at an ease with us.
---
Related Services Near Tempe AZ:

Content Recovery Services in Mesa, AZ
Contents Restoration Services in Scottsdale, AZ
Contents Pack Out Company in Phoenix AZ
---
More Info:
How to Fix Water Damaged Paper and Photos?
How to Get Rid of Musty Smell Out of Clothes?
Top Benefits of Professional Pack Out Services
How to Restore Flood Damaged Electronics?
How to Remove Mold and Mildew From Clothes?