Se habla español
Fires are as dangerous as they are destructive. But even after the flames are put out, the chemical emissions and corrosive byproducts will spread the damage to unaffected parts of the property. This is why it is important to call for immediate cleanup services in order to minimize losses and start the repairs process.
ServiceMaster All Care Restoration is available in Tempe, AZ to provide emergency fire damage cleanup services for residential and commercial properties. Our technicians are licensed and certified to respond immediately, quickly assessing the damage and stabilizing the property to prevent permanent damage.
Fire Damage Repair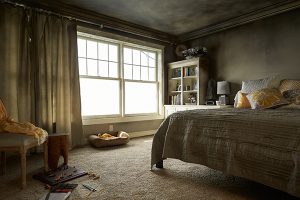 Due to the damaging effects caused by corrosive byproducts, it is important to call for fire damage restoration as soon as possible. The professionals at ServiceMaster All Care Restoration have years of experience when it comes to restoring damaged property, including furnishings, personal belongings, and the structure. We will fully dedicate ourselves to the complete restoration, using advanced products, equipment, and techniques of the industry. Our technicians can also assist with the insurance claims process to ensure everything goes smoothly.
Our fire damage cleanup services include the following steps:
Immediate response
Initial estimate and inspection
Board ups and stabilization
Emergency content cleaning and pack outs
Fire restoration and structural repairs
Soot and smoke removal
Deodorization
Final inspection
Assistance with insurance
Immediate Response
Although it seems like the damage is done after the flames are extinguished, the soot and smoke byproducts can continue to spread to areas that weren't affected by the flames. But ServiceMaster All Care Restoration uses effective restoration products and equipment that will ensure to return the building materials and contents to their original conditions. This is done by creating the right chemical combinations in order to properly remove soot and smoke byproducts for each material, including porcelain, glass, wood, aluminum, marble, brass, and more. Our deodorization services can also eliminate any lingering odor, using powerful technology to eliminate each odor particle from within.
Immediately following a fire, the first step to take is to ensure that everyone is safe and out of the property. Then call ServiceMaster All Care Restoration for professional fire damage repairs services. Our technicians have years of experience and training to properly restore the structure to its original condition.
ServiceMaster All Care Restoration is available 24/7 at (480) 717-3030 in Tempe, AZ to provide emergency fire damage restoration.
---
Recent Reviews
Review by

Beth Gaspadarek
Rating

"These guys were very quick about responding to my call. I was away for a couple of days and my bathroom sink sprung a leak. They were very nice and professional."