Se Habla Español
Property owners across the country understand the devastation that fires can cause; however, fewer realize the damage that its corrosive byproducts and chemical emissions can result in. At ServiceMaster All Care Restoration, we address all aspects of the recovery process through our fire damage restoration services. Our technicians will combat damage caused by fire, smoke, and soot, and even address any water damage that occurred from fighting the blaze. We offer these comprehensive services on a 24/7, emergency-response basis to residential and commercial property owners in Mesa, AZ.
Fire, Smoke, and Soot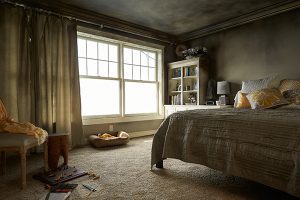 It is common knowledge that fires can cause tremendous amounts of damage in a short period of time. The flames can quickly spread to different areas of your building which deserves a prompt response. Smoke and soot, on the other hand, are notorious for causing damage for days following the fire. They can be corrosive and cause problems like discoloration, deterioration, etching, and other types of damage. In both cases, a timely response is the best way to limit the extent of the damage.
Restoring Your Property
At ServiceMaster All Care Restoration, we offer the services of IICRC certified technicians with years of experience responding to disaster restoration scenarios. We are thoroughly trained to ensure an optimal recovery process. We will restore your building, furnishings, and other belongings following the fire, and get you back on your feet in a swift and effective manner. We take advantage of state-of-the-art equipment and methodologies to achieve this. We will even help you coordinate claims with your insurance provider. To learn more about our restoration process, please see below:
We are available to respond to emergencies on a 24/7 basis
We provide pre-cleaning and content cleaning services to mitigate the damage
We restore areas that have been damaged by fire, smoke, and soot
We provide complete deodorization services
We offer construction services to fully repair your building
Smoke and Soot Specialists
Smoke, soot, and the chemicals that they carry can cause tremendous levels of damage in areas that were seemingly unaffected by the fire. They require specific chemical combinations to be treated, as well as specialized cleaning methods. Utilizing improper equipment, techniques, and solutions can result in permanent damage. Our specialists have experience in cleaning all types of soot damaged surfaces, from aluminum and stainless steel to carpeting and upholstery.
Recovering from a fire is never easy. At ServiceMaster All Care Restoration, it is our goal to provide you with greater peace of mind throughout the recovery process. To learn more about our comprehensive fire damage restoration services, simply contact our representatives at (480) 717-3030. We are available 24 hours a day in order to help you during your time of need, and we are proud to assist those in the Mesa, AZ, community.
---
August 2, 2020
Christopher Zastrow
Surprise, AZ
See All Reviews