How to Determine if Water Damage is Fresh or Old
Seeing signs of water damage strikes fear in most homeowners. The visible water damage may, after all, be just a small part of a massive, hidden problem. Fortunately, for the most part, newer water damage may be easier to repair than long-term damage. Here's how to tell the difference.
Unless the home is a brand-new construction, the plumbing system and appliances are likely to be different ages. The older the pipes and water heater are, for example, the greater the chances that they will wear out or break, result in a leak, and cause serious water damage.
Homeowners are advised to remain vigilant about vulnerable areas of the home in order to catch leaks early on. Knowledge of the various materials in the home is also helpful, considering that various materials react to moisture intrusion differently than other materials.
Water damaged brick, tile, or stone, for instance, may show evidence of the ruin after several months. Water damage takes longer to affect hard materials like these. In contrast, water damage may be readily apparent on drywall and carpeting, since moisture impacts porous materials instantly.
Homeowners must keep in mind that determining exactly how many months or days water damage has existed in a given area is impossible. However, it is practical to get an idea of whether or not the water damage is fresh or has lingered for an extended period of time.
As mentioned earlier, being familiar with the home can help when attempting to evaluate the approximate age of water damage. Signs of water damage can take time to develop, so it's especially important to keep a watchful eye on aged structures within the home.
The HVAC unit and pipes can allow the buildup of condensation in the attic or walls, for example. Unless the homeowner monitors these areas routinely, the water spots from the moisture may not be noticed right away. Water spots, in fact, take time to develop rather than occur immediately.
1. Counting the water rings
A homeowner can estimate the age of water spots when seeing them on the ceiling or walls. The rings around the water spot are telling visual clues. A fresh water spot typically shows up as one solid, dark spot without the presence of any rings around it.
However, an old water spot will be surrounded with one or more rings. The more rings around the water spot, the older the problem is. The colors of the rings are also revealing: the different colors mean the affected areas have become repeatedly wet and dried.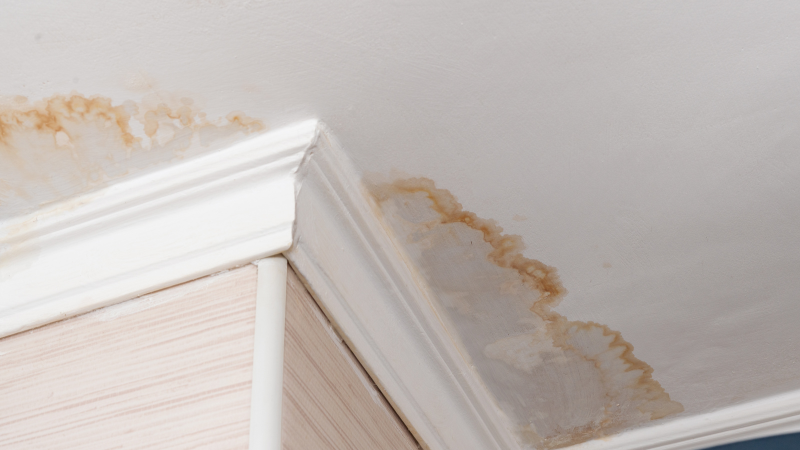 2. Touching the damaged surface
A homeowner can determine how long water damage has existed in a particular area by touching the water spots with a gloved hand. New water damage feels firm to the touch. Older water damage has the opposite feel: soft and squishy.
Fresh water damage has not yet had time to weaken the walls, ceilings, or other areas where the water damage has set in. Due to this reason, the water damaged surface remains wet yet firm. Areas affected by long-term water damage move easily without exerting significant pressure or force.
3. Finding mold colonies
Mold spores multiply rapidly once they land on a hospitable spot—one rich in moisture and organic materials. If the water damaged walls or ceilings show mold spots, the area has remained damaged for at least a few days. Mold can grow within 24 to 48 hours after water exposure.
Black or gray splotches of mold indicate only one-half of a water damage problem. The other possible issue is that the mold infestation can be hidden behind the walls or under carpets. If mold is a concealed growth, it may indicate that the water damage has persisted for some time.
Mold is a nuisance, and the spores should not be disturbed. Homeowners who are inexperienced in handling mold may inadvertently scatter the airborne spores, causing contamination to other rooms. Before touching mold, wear a mask to avoid inhaling the spores and gloves to prevent cross-contamination.
4. Noticing structural decay
The deterioration of the home's walls, ceilings, tiles, and other structural materials happens over an extensive period of time. When a home's interior structures break down due to the presence of moisture, it usually means water damage has occurred multiple times.
The decay of the home happens under extreme conditions, such as flooding. Rainstorms, sewage backups, or other causes of flooding introduce standing water into the home. When consistent and prolonged, the standing water will result in severe decay of the property.
Water damage of any duration should be dealt with swiftly. Notorious for spreading rapidly, water damage can affect other parts of the home, resulting in time-consuming and costly repairs. Homeowners are advised to routinely inspect their homes to prevent or respond to water damage.
When you come face to face with water damage, take prompt action to minimize the ruin. Contact reputable water damage restoration experts for immediate and professional attention. They will return your home or business to its pre-loss condition.
Water has a tendency to become quickly absorbed into porous materials, such as drywall, upholstery, and insulation. As a result, extensive structural damage can coincide with water damage. Restoration crews act fast to extract the moisture from the property and thoroughly dry all areas.
Utilizing the most advanced equipment in the industry, including hydroxyl technology and air movers, technicians remove the water, whether it's from the furnishings or the home's structural elements. Professional crews are also equipped to safely remove sewage water, which can teem with bacteria and viruses.