ServiceMaster Disaster Restoration And Recovery
(408) 457-0633
At any given time, there are billions of mold spores harmlessly floating around in the air. However, when they find the right combination of moisture and a food source, like cellulose, which is found in wood and drywall, the spores start growing and infesting your home. Mold isn't just unsightly; it destroys building materials and furnishings and causes respiratory problems. Many people have thought they had allergies when in reality there was mold in their home. ServiceMaster Restoration and Recovery provides comprehensive mold remediation services to San Mateo, CA. We have the tools and training to completely eradicate mold from your home or business and we'll even help with the insurance paperwork.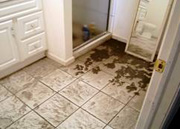 Our professionals have been thoroughly trained and certified by the Institute of Inspection, Cleaning, and Restoration Certification (IICRC), Applied Microbial Remediation Specialist (AMRS), Interactive Occupational Training for Mold Remediation (IOT), and the Indoor Air Quality Association (IAQA) to provide superior mold remediation for jobs of all sizes. It's too risky to hesitate if you see any signs of mold; the longer you wait, the more it spreads, causing damage and affecting your health. ServiceMaster Restoration and Recovery uses the most advanced cleaning products and equipment in the industry, including air scrubbers and nano filters, to contain the mold and remove it completely. We use the best protective equipment available so our employees stay safe and don't contaminate other areas.
Our complete mold remediation service includes:
A complete evaluation of the mold, including type and amount of growth/spread;
Reporting the results of the evaluation to your insurance company;
Containing the mold to the affected area so it can't spread;
Developing a comprehensive plan for eradication of the mold;
Removing all traces of the mold and restoring/repairing damaged surfaces.
Mold only becomes more and more dangerous if ignored. Call the professionals at ServiceMaster Restoration and Recovery at the first sign of mold in your home or business in the San Mateo, CA area. Call us at (408) 457-0633 24 hours a day, 7 days a week before things get worse.
---
Related Mold Remediation Services
Mold Removal in San Jose, CA
Mold Remediation in Palo Alto, CA
Mold Removal in Los Altos, CA
Mold Removal in Fremont, CA
Mold Remediation in San Francisco, CA
---
Recent Reviews
---
Review by Gary
for ServiceMaster of San Francisco
Rating

"Very prompt and professional."
---
Review by C.G.
for ServiceMaster of San Francisco
Rating

"You completed the work professionally and went out of your way to report a situation that was outside of the realm of your work that needed attention."
---
Review by Jean
for ServiceMaster of San Francisco
Rating

"You responded quickly to our situation- excellent customer service – answered all questions timely."
---
Review by Herlinda
for ServiceMaster of San Francisco
Rating

"Quick and excellent service."
---
Review by Shelley
for ServiceMaster of San Francisco
Rating

"Both my wife and I found your technician Scott to be very professional. He was prompt, followed through with everything he said he'd do and was courteous and thorough."
---
See All Reviews