ServiceMaster Disaster Restoration And Recovery
Commercial carpets take a great deal of wear and tear on a daily basis. Customers and vendors walk in and out daily, dragging in whatever is on the bottom of their shoes. Even if there's a mat, they often don't think to wipe their feet. They may take pains to keep their carpets at home looking nice, but they probably don't think twice about ones in businesses.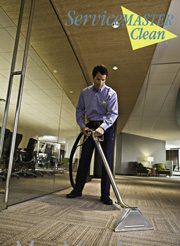 A dirty carpet throws off the look of a business. Even if the furnishings and décor are top of the line, a dingy, stained carpet will get all the attention. That's why it's important to have commercial carpets in San Mateo, CA cleaned by the experts at ServiceMaster Restoration and Recovery, and have them done on a regular basis.
Our trained professionals use state of the art methods to get deep into carpet and remove imbedded dirt and debris. We'll remove stains and dirt from your carpets so they're not just clean, they're literally as good as new. ServiceMaster Restoration and Recovery provides high quality commercial cleaning to businesses of all sizes at affordable prices. We offer both one time and regularly scheduled cleanings. We'll work with you to determine a cleaning schedule that best suits your business and your budget, so your carpets always look their best. Regular cleaning prevents matting, spotting, and excessive wear. Investing in regular cleaning also means you won't have to replace expensive carpets nearly as often.
Professional cleaning from ServiceMaster Restoration and Recovery offers businesses in San Mateo, CA these benefits:
Maintains your carpet's beautiful color and texture;
Promotes a consistent appearance;
Reduces wear, especially in high traffic areas;
Extends the life of your carpet.
We use the best cleaning products and equipment in the industry and monitor the process so everything is just right before we leave. Our easy to understand fees eliminate billing surprises. Call the experts at (408) 457-0633 to schedule a thorough cleaning for your commercial carpets and give your business a fast spruce up.
---
Related Commercial Carpet Cleaning Services
Commercial Carpet Cleaning in San Jose, CA
Commercial Carpet Cleaning in Palo Alto, CA
Commercial Carpet Cleaning in Los Altos, CA
Commercial Carpet Cleaning in Fremont, CA
Commercial Carpet Cleaning in San Francisco, CA
---
Recent Reviews
---
Review by Gary
for ServiceMaster of San Francisco
Rating

"Very prompt and professional."
---
Review by C.G.
for ServiceMaster of San Francisco
Rating

"You completed the work professionally and went out of your way to report a situation that was outside of the realm of your work that needed attention."
---
Review by Jean
for ServiceMaster of San Francisco
Rating

"You responded quickly to our situation- excellent customer service - answered all questions timely."
---
Review by Herlinda
for ServiceMaster of San Francisco
Rating

"Quick and excellent service."
---
Review by Shelley
for ServiceMaster of San Francisco
Rating

"Both my wife and I found your technician Scott to be very professional. He was prompt, followed through with everything he said he'd do and was courteous and thorough."
---
See All Reviews