(408) 457-0633
Offices and commercial spaces need regular improvements in terms of furniture, paint, interior design and anything else that can enhance their look and comfort. An important part of these improvements is the regular cleaning and maintenance of the carpet to keep it in good shape. ServiceMaster Disaster Restoration and Recovery (DRR) is the company to call if you need professional carpet cleaning services for your office or commercial space in San Jose, CA.
We have the experience and most advanced methods and materials for maintaining your carpet's appearance and your company's image. That's why thousands of businesses depend on ServiceMaster Clean nationwide for commercial carpet cleaning needs.
ServiceMaster Commercial Carpet Cleaning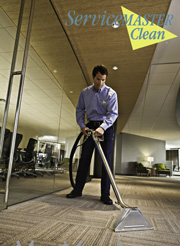 Our experienced and qualified staff has taken carpet cleaning to the next level by introducing highly advanced cleaning methods that can remove deeply embedded debris from all types of commercial carpeting. We don't just remove the dirt and spots from your carpets; we restore them and make sure they look good as new.
Whether it's a small business or a large one, ServiceMaster DRR provides quality services at the most affordable prices. We offer one time cleaning or regular cleaning services for your carpets. However, we advise you to get your carpets cleaned on a regular basis if you're running a big business with many people visiting your office daily. With plenty of experience in providing professional commercial carpet cleaning services, ServiceMaster DRR in San Jose knows the needs of our clients. Trusting a service like ours is always a beneficial decision.
Get the most out of your carpet with continued care
Our programs for continued care use innovative products and techniques along with the manufacturer's latest care instructions to extend the life of your carpet and keep it looking clean and fresh. We help prevent soil from building up in the carpet fiber base and avoid the dull, lifeless look of carpets that are cleaned too infrequently. Routine carpet care also prevents matting, spotting and excessive wear, leaving a more consistent and pleasant appearance overall. Enjoy a better-looking carpet and avoid the cost of frequent replacement, all for a low monthly investment. Plus our clear, manageable fees eliminate surprises or increased costs from one cleaning to the next.
ServiceMaster Carpet Care
Maintains your carpet's rich color and texture
Promotes a consistent carpet appearance
Reduces wear, especially in high traffic areas
Utilizes the most current innovations in carpet care
Extends the life of your carpet investment
Thoroughly monitors your carpet's condition
Offers simple, no-surprises billing
Areas We Serve
We offer carpet cleaning services in the following areas:
San Jose, CA.
Bay area.
San Jose surroundings.
Contact Us
Call ServiceMaster DRR at (408) 457-0633 for professional carpet cleaning services in San Jose, CA area. We are available 24/7, offering  estimates and convenient appointments.
---
Related Commercial Carpet Cleaning Services
Commercial Carpet Cleaning in Palo Alto, CA
Commercial Carpet Cleaning in Los Altos, CA
Commercial Carpet Cleaning in Fremont, CA
Commercial Carpet Cleaning in San Mateo, CA
Commercial Carpet Cleaning in San Francisco, CA
---
Recent Reviews
---
Review by Gary
for ServiceMaster of San Francisco
Rating

"Very prompt and professional."
---
Review by C.G.
for ServiceMaster of San Francisco
Rating

"You completed the work professionally and went out of your way to report a situation that was outside of the realm of your work that needed attention."
---
Review by Jean
for ServiceMaster of San Francisco
Rating

"You responded quickly to our situation- excellent customer service – answered all questions timely."
---
Review by Herlinda
for ServiceMaster of San Francisco
Rating

"Quick and excellent service."
---
Review by Shelley
for ServiceMaster of San Francisco
Rating

"Both my wife and I found your technician Scott to be very professional. He was prompt, followed through with everything he said he'd do and was courteous and thorough."
---
See All Reviews