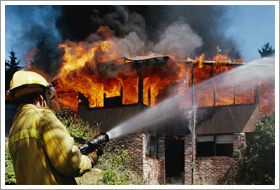 Fires are among the most dangerous disasters as they are a threat to cause harm to the people in your home or building and the property damage they cause is extensive.  The top priority when a fire occurs is to make sure everyone is safe and once this is accomplished it is important to begin focusing on the restoration of the building.  After the fire is put out, soot and corrosive byproducts are still present, causing the damage to spread which can become permanent until the restoration can begin.  ServiceMaster Disaster Restoration and Recovery provides fire damage restoration services to help restore and repair buildings damaged by a fire in San Jose, CA 95 111 area.  We dispatch our technicians within 1 to 2 hours of your call to mitigate the damage.
What to Do After a Fire – ServiceMaster Video
Fire Damage Restoration Services
Each of our technicians are licensed and insured to deal with minimal or extensive fire damage in residential and commercial settings.  We respond quicker than the standard response time of our industry to help prevent permanent damage and get your home or building completely restored as soon as possible.  We use only the best cleaning products and equipment of the industry and our knowledge of chemical cleaners allows us to remove soot from at-risk household services including aluminum, porcelain, brass, tile, chrome, and fabric such as carpeting and upholstery.
The fire damage restoration services we provide consist of the following:
Emergency pre-cleaning
Content cleaning
Content pack-out
Wall and ceiling cleaning
Deodorization
Once the fire is put out in your home or business, you should immediately contact ServiceMaster Disaster Restoration and Recovery to begin the restoration.  We provide fire and smoke damage restoration service in San Jose, CA and we respond within two hours of your call to help minimize the spread of the damage as well as the interruption to your daily life.  You can call us 24 hours a day at (408) 457-0633 to respond to fire damage emergencies in San Jose, CA 95111 and the nearby counties of San Mateo, Monterey, San Benito, and Santa Clara.
---
Related Fire Damage Restoration Services
Fire Damage Restoration in Palo Alto, CA
Fire Damage Restoration in Los Altos, CA
Fire Damage Restoration in Fremont, CA
Fire Damage Restoration in San Mateo, CA
Fire Damage Restoration in San Francisco, CA
---
Recent Reviews
---
Review by Gary
for ServiceMaster of San Francisco
Rating

"Very prompt and professional."
---
Review by C.G.
for ServiceMaster of San Francisco
Rating

"You completed the work professionally and went out of your way to report a situation that was outside of the realm of your work that needed attention."
---
Review by Jean
for ServiceMaster of San Francisco
Rating

"You responded quickly to our situation- excellent customer service – answered all questions timely."
---
Review by Herlinda
for ServiceMaster of San Francisco
Rating

"Quick and excellent service."
---
Review by Shelley
for ServiceMaster of San Francisco
Rating

"Both my wife and I found your technician Scott to be very professional. He was prompt, followed through with everything he said he'd do and was courteous and thorough."
---
See All Reviews