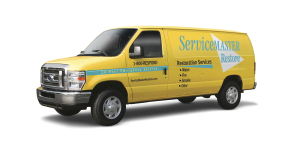 (408) 457-0633
Encountering major accidents in which there is a serious injury or death is not a common occurrence for most people, but in these situations, taking the right actions is important.  The first thing you should do is call EMT's to get help for those that are injured and law enforcement, especially if the scene is also a crime scene.  After the proper authorities have been alerted, you must call a trained professional to handle the cleanup of the scene as biohazard materials such as blood and bodily fluids can spread disease or infection when handled improperly.  ServiceMaster Disaster Restoration and Recovery provides trauma scene cleaning services to safely cleanup and restore scenes containing biohazard materials in San Jose, CA 95111 and the communities of San Mateo, Santa Clara, Monterey, and San Benito counties.
The technicians of ServiceMaster Disaster Restoration and Recovery have the specialized training and certification to safely cleanup trauma scenes and remove biohazard materials.  It is important for blood, bodily fluids, and other biohazard materials to be cleaned up by professionals because these materials may have dangerous bacteria and other toxins that will spread with improper cleaning methods.  We use specialized equipment and cleaning products to effectively restore trauma scenes to a safe condition.
Our trauma scene cleaning services include the following steps:
Decontamination: Once the biohazard materials are removed, the entire area is cleaned and decontaminated.
Odor Removal: Any odors that are left behind are removed with our powerful deodorizers.
Proper Disposal: We will properly dispose of biohazard materials at a licensed facility.
Continuous Monitoring: Our quality control and communication help us finish the job efficiently.
Insurance Assistance: We can help coordinate your claims with local insurance providers.
Family Assistance and Support: If you or your family is experiencing emotional trauma from the incident, we can help you find professional counselors for support.
Certified Technicians: Each of our technicians is specially trained and certified to clean up biohazard materials while following local and state government regulations.
Our staff understands that these situations can be sensitive and involve overwhelming emotions.  We approach every trauma scene with a sense of compassion and we work quickly and discreetly to protect your privacy.  Our phone lines are open 24 hours a day at (408) 457-0633 to respond to emergency trauma scene cleaning needs in San Jose, CA area, as well as in San Mateo, Santa Clara, Monterey, and San Benito counties.
---
Related Trauma Scene Cleaning Services
Trauma Scene Cleaning in Palo Alto, CA
Trauma Scene Cleaning in Los Altos, CA
Trauma Scene Cleaning in Fremont, CA
Trauma Scene Cleaning in San Mateo, CA
Trauma Scene Cleaning in San Francisco, CA
---
Recent Reviews
---
Review by Gary
for ServiceMaster of San Francisco
Rating

"Very prompt and professional."
---
Review by C.G.
for ServiceMaster of San Francisco
Rating

"You completed the work professionally and went out of your way to report a situation that was outside of the realm of your work that needed attention."
---
Review by Jean
for ServiceMaster of San Francisco
Rating

"You responded quickly to our situation- excellent customer service – answered all questions timely."
---
Review by Herlinda
for ServiceMaster of San Francisco
Rating

"Quick and excellent service."
---
Review by Shelley
for ServiceMaster of San Francisco
Rating

"Both my wife and I found your technician Scott to be very professional. He was prompt, followed through with everything he said he'd do and was courteous and thorough."
---
See All Reviews