However shocking and traumatic a major accident or a crime scene may be, quick and adequate intervention is of paramount importance as it can mean the difference between life and death. Without a doubt, the first thing you should do if you come upon a trauma scene is call EMT's to get help for the injured and then – alert the proper authorities. After the police have investigated the scene and gathered sufficient evidence, you will need trained professionals to handle the cleanup of the surroundings as biohazard materials, such as blood and bodily fluids, can spread disease or infection unless treated in a timely and appropriate manner.
ServiceMaster Disaster Restoration and Recovery provides trauma scene cleaning services in Palo Alto, CA and the communities of San Mateo, Santa Clara, San Benito, and Monterey counties to cleanup and restore the safety of accident or crime scenes containing biohazard materials. We will respond immediately to your call and will treat your property with great empathy and respect for your privacy and your feelings.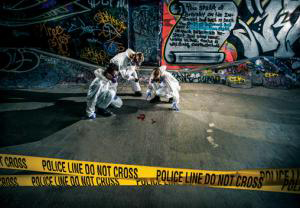 Our technicians are properly certified to handle and remove biohazard materials in cooperation with law reinforcement. Their extensive training, adequate protective equipment, and rich experience allow our experts to safely remove any dangerous materials and efficiently restore trauma and crime scenes. Our main focus is safety, as crime or accident scenes often involve bloodborne pathogens, harmful chemicals, and other dangerous bacteria and toxins that can spread and affect your health unless properly cleaned. The most common biohazard materials at a crime scene include bodily fluids, tissue and other potentially pathogenic substances. Some of the resulting harmful bacteria and chemicals are volatile and can leave residues throughout a structure and affect your health. What is more, fingerprint powder and evidence-gathering chemicals, as well as tear gas and pepper spray residues, may remain from a crime scene investigation. Our professionals follow federal and state guidelines to properly remove any dangerous materials, as well as clean, disinfect, and deodorize the entire surroundings.
We use specialized equipment and cleaning products to effectively restore trauma scenes to a safe condition. Besides, our compassionate and respectful approach makes the entire process easier for the people affected by the traumatic event and the complete restoration of their property allows them to quickly resume their normal daily routine without any danger to their health.
Our trauma scene cleaning services include the following stages:
Cleanup By Certified Technicians – Our technicians are properly certified and strictly follow the local and state government regulations for handling biohazard materials. They have undergone specialized extensive training considering the safest and most efficient techniques of removing harmful and dangerous substances. Besides, our experts have great experience in dealing with trauma scenes and use advanced trauma cleaning equipment;
Proper Disposal – Biohazard materials are properly disposed of at a licensed facility;
Decontamination – Once all the dangerous and harmful materials have been completely removed, the entire area is thoroughly cleaned and decontaminated;
Odor Removal – Powerful deodorizers and innovative deodorization equipment, such as air scrubbers and hydroxyl technology, are used to remove any lingering odors;
Continuous Monitoring – Effective control and communication allow us to finish the job in a quick and efficient manner;
Insurance Assistance – We work in close cooperation with local insurance providers and can help coordinate your claims;
Family Assistance and Support – We can put you in touch with professional counselors or therapists if you or a member of your family is experiencing emotional stress or trauma from the incident.
Trauma scenes involve overwhelming emotions, so we approach every trauma scene with compassion and respect. Our technicians work quickly and discreetly to protect your privacy and help you return to your normal life.  Remember that response time and experience are essential for the successful restoration of a trauma scene. Call us 24 hours a day at (408) 457-0633 to respond to emergency trauma scene cleaning needs in Palo Alto, CA 94306 area, as well as in Monterey, Santa Clara, San Mateo, and San Benito counties.
---
Related Trauma Scene Cleaning Services
Trauma Scene Cleaning in Los Altos, CA
Trauma Scene Cleaning in Fremont, CA
Trauma Scene Cleaning in San Jose, CA
Trauma Scene Cleaning in San Mateo, CA
Trauma Scene Cleaning in San Francisco, CA
---
Recent Reviews
---
Review by Gary
for ServiceMaster of San Francisco
Rating

"Very prompt and professional."
---
Review by C.G.
for ServiceMaster of San Francisco
Rating

"You completed the work professionally and went out of your way to report a situation that was outside of the realm of your work that needed attention."
---
Review by Jean
for ServiceMaster of San Francisco
Rating

"You responded quickly to our situation- excellent customer service - answered all questions timely."
---
Review by Herlinda
for ServiceMaster of San Francisco
Rating

"Quick and excellent service."
---
Review by Shelley
for ServiceMaster of San Francisco
Rating

"Both my wife and I found your technician Scott to be very professional. He was prompt, followed through with everything he said he'd do and was courteous and thorough."
---
See All Reviews