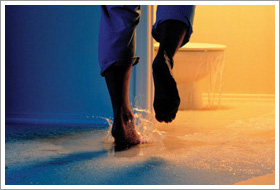 Excess water or moisture is a common cause for property damage in homes and buildings because it can come from leaks, rain, flooding, or sewage backup.  The extent of the damage depends on the amount of water or moisture as well as how long it is left to spread through porous building materials until action is finally taken.  ServiceMaster Disaster Restoration and Recovery provides water damage restoration services in San Jose, CA and the counties of San Mateo, Santa Clara, Monterey, and San Benito.  We will stop the spread of the water through your home and repair or restore the resulting damage.
Water Damage Restoration Procedure
For over 35 years, our technicians have done water damage restoration projects in commercial and residential settings and we can handle small jobs as well as large losses.  We use the most advanced equipment of the industry such as dehumidifiers, air movers, hydroxyl technology, and floor mat systems to eliminate water and moisture from the furnishings, structural elements, and air spaces of a building.  Our water damage restoration service also includes other related services that may be necessary in these situations including content cleaning and pack-outs, carpet cleaning, and upholstery cleaning.
What to DO in Case of Water Damage
Make sure the source of the excess water or moisture is repaired right away to prevent further damage.  This must be done before any restoration work can begin.
Store valuable items in secured, dry locations.
You should shut off the power in your home if the water damage is extensive.  Our technicians will deal with the power issue.
What NOT to Do After Water Damage
Do not throw away the part responsible for the excess water or moisture, it may be required by your insurance company for the claim.
Do not ignore water damage to let it dry, it will just keep spreading.
Sewage Backup Cleanup
Rain and leaks are not the only cause of in home flooding, sewage backups can also cause damage in your home or building.  Sewage backup should be handled more carefully than regular flood water because it could contain harmful viruses and bacteria such as hepatitis and E. coli.  We are specially trained and equipped to remove potentially harmful biohazard materials found in sewage and we will restore and disinfect the area once the sewage is removed.  If you suspect that water in your home or building might contain sewage, it is best to stay clear of the water and contact ServiceMaster Disaster Restoration and Recovery.
Water damage will continue to spread the longer it is ignored so contact ServiceMaster Disaster Restoration and Recovery for water damage restoration services as soon as you notice the damage.  We provide complete water damage restoration services for homes and businesses in San Jose, CA and we also work with many local insurance providers.  Our phone lines are open 24 hours a day at (408) 457-0633 to respond to water damage situations in San Jose, CA 95111 area.
---
Related Water Damage Restoration Services
Water Damage Restoration in Palo Alto, CA
Water Damage Restoration in Los Altos, CA
Water Damage Restoration in Fremont, CA
Water Damage Restoration in San Mateo, CA
Water Damage Restoration in San Francisco, CA
---
Recent Reviews
---
Review by Gary
for ServiceMaster of San Francisco
Rating

"Very prompt and professional."
---
Review by C.G.
for ServiceMaster of San Francisco
Rating

"You completed the work professionally and went out of your way to report a situation that was outside of the realm of your work that needed attention."
---
Review by Jean
for ServiceMaster of San Francisco
Rating

"You responded quickly to our situation- excellent customer service - answered all questions timely."
---
Review by Herlinda
for ServiceMaster of San Francisco
Rating

"Quick and excellent service."
---
Review by Shelley
for ServiceMaster of San Francisco
Rating

"Both my wife and I found your technician Scott to be very professional. He was prompt, followed through with everything he said he'd do and was courteous and thorough."
---
See All Reviews