Flooded house? Here's what you should do before the water damage restoration experts arrive
Recent flooding in several areas of the country reminds us that many of our homes are vulnerable when it comes to heavy rains, failed dams and levees, and broken water mains.  Cleaning up flooding in houses and properties requires the expertise of a professional restoration company to protect people's health and minimize the overall property damage as much as possible.
If you experience flooding in your house or business, the first thing you should do is call a water damage restoration expert. Before the experts arrive, however, there are several things you can do to lessen the damage to your property.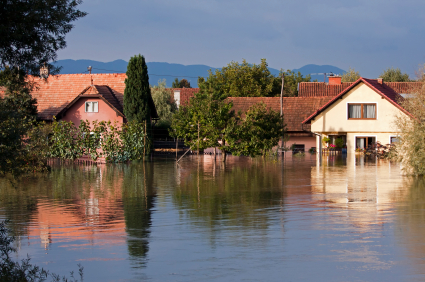 Follow these helpful tips provided by Ballard Betz, General Manager of ServiceMaster Cleaning & Restoration in Atlanta, Georgia:
1. Since damage from water and bacteria growth can begin within hours, remove as much water as possible by mopping and blotting.
2. Remove wet area rugs and floor coverings that are not attached to your floors. Do not try to remove wall to wall carpeting, however.
3. Lift drapes and curtains off the floor and loop them through a coat hanger. Hang the coat hanger from your drapery rods.
4. For furniture, wipe and blot as much as possible with towels. Prop up wet furniture cushions for even drying.  Place aluminum foil under the legs of your furniture.
5. Move art, photos and other keepsakes to a safe and dry location.
6. Don't remove books from shelves; instead, pack them tightly to prevent the pages from warping until the experts can begin specialized drying.
7. Open drawers, doors and cupboards to allow for drying.
Here are some things you should not do:
1. Don't enter rooms that have standing water until you are certain that electricity has been turned off.
2. Your household vacuum won't work to remove water, so don't try using it. Leave heavy-duty water removal to the pros and their specialized equipment.
3. Wet carpeting can be extremely heavy and harbor hazardous bacteria, so don't lift out tacked-down carpet without professional help .
4. Refrain from using electrical appliances while on web carpeting or flooring.
5. Don't disturb any visible mold
Time is of the essence. If you have water damage in your home or business, call a water damage restoration and cleaning expert right away.  If you live in the Atlanta, Georgia, area, call Servicemaster Cleaning & Restoration of Cobb at  (770) 679-2299 for fast, reliable, 24-hour service.