One of the most common sources of property damage is excess water or moisture but the extent of the damage can initially be deceiving because of the way it gets absorbed into different building materials.  Floods, rain, plumbing leaks, and sewage backups are all potential causes for water damage and once it begins, it will keep spreading through wood, drywall, and other absorbent building materials.  ServiceMaster Disaster Restoration and Recovery provides water damage restoration services in Fremont, CA to remove excess water and moisture from absorbent building materials and structural elements.  Our quick reaction will limit the spread of the damage and lower the risk of mold or mildew growth.
Water Damage Restoration Procedure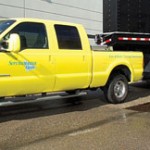 With over 35 years of combined experience, our technicians are ready to handle small and large water damage losses in homes and commercial buildings.  We can thoroughly remove water and moisture from the structural elements, furnishings, and air space in your home using state-of-the-art drying equipment such as air movers, hydroxyl technology, dehumidifiers, and floor mat systems.  If the water damage has caused other problems that require additional restoration services such as content cleaning and carpet cleaning, our technicians will handle these services along with the water damage restoration.
What to DO in Case of Water Damage
Immediately repair the source of the excess water or moisture to stop the damage before beginning the restoration work.
Put any valuable items somewhere safe.
Turn the electricity in your home off if there is a lot of excess water, our technicians deal with this issue as part of the process.
What NOT to Do After Water Damage
Do not discard the broken part that caused the water or moisture to get into your home, this part may be necessary for insurance claims.
Do not ever ignore water damage, it will only continue to spread further through absorbent building materials.
Sewage Backup Cleaning
Sewage backups are one potential cause of water damage that requires additional action beyond normal water damage restoration.  Sewage often contains dangerous materials including viruses and bacteria that can spread diseases and infections such as E. Coli and hepatitis.  Our technicians have the right equipment to clean up hazardous sewage water and disinfect the area so that is safe to inhabit.  If there is a possibility of a sewage backup in your home, avoid any contact with the water and immediately call ServiceMaster Disaster Restoration and Recovery.
The absorbent nature of building materials in a home or building can make it difficult to determine the full scope of water damage.  If you notice water damage in your home in Fremont, CA, it is best to contact ServiceMaster Disaster Restoration and Recovery for professional water damage restoration services.  You can reach us 24 hours a day at (408) 457-0633 for emergency water damage situations in Fremont, CA and the surrounding towns of Alameda County.
---
Related Water Damage Restoration Services
Water Damage Restoration in Los Altos, CA
Water Damage Restoration in Palo Alto, CA
Water Damage Restoration in San Jose, CA
Water Damage Restoration in San Mateo, CA
Water Damage Restoration in San Francisco, CA
---
Recent Reviews
---
Review by Gary
for ServiceMaster of San Francisco
Rating

"Very prompt and professional."
---
Review by C.G.
for ServiceMaster of San Francisco
Rating

"You completed the work professionally and went out of your way to report a situation that was outside of the realm of your work that needed attention."
---
Review by Jean
for ServiceMaster of San Francisco
Rating

"You responded quickly to our situation- excellent customer service - answered all questions timely."
---
Review by Herlinda
for ServiceMaster of San Francisco
Rating

"Quick and excellent service."
---
Review by Shelley
for ServiceMaster of San Francisco
Rating

"Both my wife and I found your technician Scott to be very professional. He was prompt, followed through with everything he said he'd do and was courteous and thorough."
---
See All Reviews