(408) 457-0633
Hoarding disorder is understood as a mental disorder that may be a symptom of more complex anxiety issues and the habits that form as a result of this disorder can cause dangerous and unsanitary living conditions.  As a hoarder collects more items, the hoard will continue to grow and eventually block access to areas of the home as well as potentially harbor mold, bacteria, and other harmful materials that can negatively affect their health.  ServiceMaster Disaster Restoration and Recovery takes a realistic approach to hoarding and estate cleaning to help clean out hoarders' homes in San Jose, CA and the nearby counties of San Mateo, Monterey, Santa Clara, and San Benito.  Our three phase approach to hoarding cleaning helps us earn the trust and respect of the individual before even stepping into the home.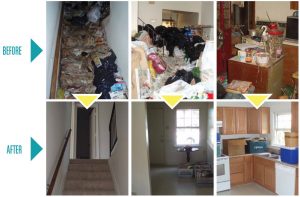 Those that struggle with hoarding disorder rarely reach out for help on their own out of embarrassment and it usually takes a friend or family member to help start the cleaning and recovery process.  It is important to help the individual understand that hoarding is a manifestation of anxiety disorders which means that there is no reason to be embarrassed.  Hoarders are incapable of disposing of anything and collect unnecessary items such as newspapers, food containers, trash, and sometimes animals which creates clutter and unsanitary living conditions.  Our technicians at ServiceMaster Disaster Restoration and Recovery can remove built up clutter from the homes of hoarders and clean and decontaminate the area after the hoard is removed.
Our hoarding and estate cleaning services include the following:
Finding and salvaging valuable items including jewelry
Removing unwanted hoarded items
Coordinating which items will be recycled or thrown away
Distributing items for donation
Distributing items to family members
Assistance with official paperwork from trusts, lawyers, and government agencies
3 Phase Approach to Hoarding and Estate Cleaning
The 3 phrase hoarding cleaning approach that is used by ServiceMaster Disaster Restoration and Recovery is a collaboration between ServiceMaster Restore and the company Clutter Cleaner which is owned by the host of Hoarders, Matt Paxton.  This approach is designed to create a level of trust and respect with the individual before beginning any cleaning and to let the individual have control in the cleaning process.  The 3 phases of our hoarding cleaning service consist of the following steps:
Phase 1: Create a Connection and Understanding
We first try to determine the extent of the hoarding problem.
We establish a feeling of trust and respect with the individual before entering the home.
We come to an agreement with the individual and their family to proceed with the cleaning process and we can also get help from social services or a therapist if it is beneficial.
Phase 2: Creating and Implementing a Cleaning Plan
We will form a cleaning plan to remove hoarded items.
After removing unwanted clutter, we can help reorganize the home.
We will help coordinate which items will be thrown away, recycled, or donated as well as deliver donated items.  Items that are salvaged will be cleaned and sanitized.
Phase 3: Follow Up
After the cleaning, we create a plan with the individual and their family to maintain a clean home.
We do short-term follow ups on the phone to check on the progress with the cleaning plan and see if further assistance is needed.
We put the individual in charge of the cleaning process so that he or she has control and our technicians are highly trained to provide quality work.
Hoarding can have serious consequences for individuals that struggle with this disorder as well as their families and reaching out to a hoarder is the first step of the cleaning process.  ServiceMaster Disaster Restoration and Recovery provides hoarding and estate cleaning services with a realistic and respectful approach in San Jose, CA 95111.  We can be reached 24 hours a day at (408) 457-0633 to provide more information about our hoarding cleaning services.  
---
Hoarding estimates – Get a Quote Online
---
Related Hoarding and Estate Cleaning Services
Hoarding Cleanup and Estate Cleaning in Palo Alto, CA
Hoarding and Estate Cleaning in Los Altos, CA
Hoarding and Estate Cleaning in Fremont, CA
Hoarding and Estate Cleaning in San Mateo, CA
Hoarding and Estate Cleaning in San Francisco, CA
---
Recent Reviews
---
Review by Gary
for ServiceMaster of San Francisco
Rating

"Very prompt and professional."
---
Review by C.G.
for ServiceMaster of San Francisco
Rating

"You completed the work professionally and went out of your way to report a situation that was outside of the realm of your work that needed attention."
---
Review by Jean
for ServiceMaster of San Francisco
Rating

"You responded quickly to our situation- excellent customer service – answered all questions timely."
---
Review by Herlinda
for ServiceMaster of San Francisco
Rating

"Quick and excellent service."
---
Review by Shelley
for ServiceMaster of San Francisco
Rating

"Both my wife and I found your technician Scott to be very professional. He was prompt, followed through with everything he said he'd do and was courteous and thorough."
---
See All Reviews