(415) 532-1836
Many people in the United States struggle with hoarding disorder and if their habits are allowed to continue unabated, they could lead to dangerous living conditions in the home. The hoard of collected items can grow to block off parts of the home and harbor mold, bacteria, and other harmful materials that can have negative health effects. Cleaning out the home of a hoarder requires an honest and realistic approach and RestorationMaster provides effective hoarding and estate cleaning services in San Francisco, CA as well as San Mateo, Santa Clara, San Benito, and Monterey counties. We can help completely clean out the homes of hoarders and our three phase approach helps us gain the trust and respect of the affected individual.
In most cases of hoarding, a friend or family member usually reaches out to begin the cleaning as individuals who hoard tend to be embarrassed. There is nothing to be embarrassed about however as hoarding is a symptom of a complex anxiety disorder and not the result of laziness or poor organization. People that struggle with hoarding disorder develop an inability to throw anything away including trash, newspapers, and other unnecessary clutter and we can help remove the clutter as well as clean and sanitize the home once it is removed.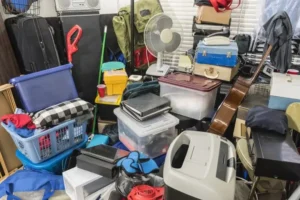 You can expect the following from our hoarding cleaning services in San Francisco, CA:
Location and saving of valuable items such as jewelry and money.
Complete removal of the hoarded items
Coordination of recycling and disposal
Distribution of donated items
Assistance in distributing saved items to family members
Help with required paperwork from lawyers, government agencies, and trusts
3 Phase Approach to Hoarding and Estate Cleaning in San Francisco, CA
RestorationMaster implements a 3 phase approach to hoarding and estate cleaning that was developed by RestorationMaster Restore. The goal of this approach is to earn the trust and respect of the affected individual in order to effectively clean out their homes. This hoarding cleaning process in San Francisco, CA consists of the following phases:
Phase 1: Understanding and Connecting to the Individual
We start by trying to gain a complete understanding of the scope of the hoarding.
We make sure the individual and their family have agreed to go ahead with the cleaning and we can even enlist the help of a therapist or social services if necessary.
We help build a level of trust with the individual before entering their home.
Phase 2: Creating and Implementing a Cleaning Plan
We create a cleaning plan to completely remove all unnecessary clutter from the home.
We will help reorganize the home after the hoarded items have been removed.
We can help dispose of unwanted items in a variety of ways including recycling, donations, or garbage disposal and we will document and deliver donated items. Our technicians also clean and sanitize kept items.
Phase 3: Follow Up with the Family
We help the individual and their family create a plan to keep the home clean.
Our short-term phone follow up helps us ensure that the individual is keeping a clean home or discovering if they need further help.
Our experience and training with hoarding cleaning help the process go much more efficiently and we always make sure that the customer is in charge of the cleanup effort.
Contact RestorationMaster for Hoarding Cleanup in San Francisco, CA
The habits of a hoarder can have dangerous consequences by blocking the home and creating unsanitary living conditions and it takes a friend or family member to reach out and begin the recovery process. RestorationMaster provides hoarding and estate cleaning services in San Francisco, CA and we understand that it takes a respectful approach in order to achieve success. You can call us 24 hours a day at (415) 532-1836 to learn more about our hoarding cleaning services.
---
Related Hoarding and Estate Cleaning Services
Hoarding Cleanup in San Mateo, CA
Hoarder cleanup in San Jose, CA
Hoarding cleaning services in Palo Alto, CA
Hoarder cleaning in Los Altos, CA
Hoarder house cleaning in Fremont, CA