ServiceMaster Disaster Restoration And Recovery
Hoarding disorder is part of a complex series of anxiety issues, but the issues can cause dangerous and unsanitary living conditions. Hoarders collect items like magazines or newspapers and are unable to let them go. The items accumulate over time, leaving paths through piles of things throughout the home. Not only is access to parts of the home blocked, but the debris can harbor bacteria, mold, and other biohazards. ServiceMaster Restoration and Recovery works with hoarders in San Mateo, CA to sort through the clutter in their homes and return it to a safe, livable state.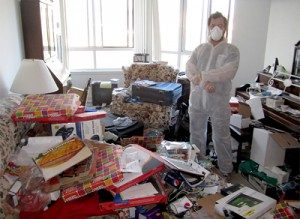 Hoarders are often too embarrassed to seek help for themselves, thinking they're just lazy or not good at housekeeping. Often a friend or family member is the one who calls for professional help. It's important to remember that hoarding is part of an anxiety disorder, and not a cause for embarrassment. Calling the professionals at ServiceMaster Restoration and Recovery is a good first step.
Our hoarding and estate cleaning services include:
Sorting through and finding valuables or heirlooms, such as jewelry;
Deciding which items should be donated, thrown away, or recycled;
Removing items from the home to be donated, etc.;
Assisting with official paperwork for trusts, lawyers, and government agencies.
3 Phase Approach to Hoarding and Estate Cleaning
The 3 phase approach used by ServiceMaster Restoration and Recovery was developed in conjunction with Clutter Cleaner, owned by Matt Paxton, host of Hoarders. It was designed to create a level of trust and respect with the hoarder before cleaning begins, and to let him have control of the process. The process consists of:
Creating a connection and understanding. We determine the extent of the situation and work to develop a sense of trust and respect before we even enter the home. We'll come to an agreement with the hoarder and the family before proceeding with the cleaning process. We can get help from social services or a therapist if it would be beneficial.
Creating and implementing a cleaning plan. We'll develop a plan to remove the hoarded items, reorganize the home and deliver items to be donated, recycled or thrown away. Items to be kept will be cleaned and sanitized.
Follow Up. We'll work with the individual and the family to maintain the home. We put the individual in charge of cleaning so they have control of the situation. We offer short-term follow ups over the phone to check on progress and see if assistance is needed.
Hoarding has serious physical and mental consequences on everyone involved and reaching out to the hoarder is the first step. When it's time to discuss cleaning, call the caring professionals of ServiceMaster Restoration and Recovery at (408) 457-0633. We'll work with hoarders and their families in San Mateo, CA to get things back under control.
---
Hoarding estimates – Get a Quote Online
---
Related Hoarding & Estate Cleaning Services
Hoarding & Estate Cleaning in San Jose, CA
Hoarding Cleanup & Estate Cleaning in Palo Alto, CA
Hoarding & Estate Cleaning in Los Altos, CA
Hoarding & Estate Cleaning in Fremont, CA
Hoarding & Estate Cleaning in San Francisco, CA
---
Recent Reviews
---
Review by Gary
for ServiceMaster of San Francisco
Rating

"Very prompt and professional."
---
Review by C.G.
for ServiceMaster of San Francisco
Rating

"You completed the work professionally and went out of your way to report a situation that was outside of the realm of your work that needed attention."
---
Review by Jean
for ServiceMaster of San Francisco
Rating

"You responded quickly to our situation- excellent customer service - answered all questions timely."
---
Review by Herlinda
for ServiceMaster of San Francisco
Rating

"Quick and excellent service."
---
Review by Shelley
for ServiceMaster of San Francisco
Rating

"Both my wife and I found your technician Scott to be very professional. He was prompt, followed through with everything he said he'd do and was courteous and thorough."
---
See All Reviews