Reliable Roofing
The importance of having a durable, well-maintained roof for your business or commercial building cannot be stressed enough. The roof helps protect a building from weather conditions such as rain, wind, and hail, and it can even help improve your heating and cooling efficiency.
Professional Roof Repair
If the roof sustains any damage, it can leave your building vulnerable to leaks and structural issues. Adverse weather conditions are the most common cause of roof damage, but roofs may also sustain damage from animals and falling tree branches or other debris. Any damage to the roof requires immediate attention, or the damage will worsen and begin to threaten your employees and assets. You must call a trusted roofing contractor at the first sign of damage.
Reliable Roofing is a commercial roofing contractor that has long serviced businesses and institutions in Lake Zurich, IL. We provide complete commercial roof repair services to help repair a variety of issues with any type of commercial roof. Each of our licensed and bonded technicians has received thorough training to ensure that we can provide quality results. As a National Roofing Contractor's Association (NRCA) member, we are committed to providing ethical and cost-effective services, and we back our work with a warranty and a $10 million insurance policy.
Roof Repair You Can Trust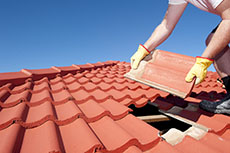 The professional contractors of Reliable Roofing are ready to provide a variety of commercial roof repair services to fix anything from leaks and broken shingles to major damage. We respond to customer calls within 24 hours because any hesitation will lead to worse damage and cost your business or institution additional time and costs. Our technicians will not only provide high quality repair services, but we will also replace broken parts with new products from the roofing industry's most trusted manufacturers.
Our commercial roof repair includes the following services:
Hail and Storm Damage: Most cases of roof damage are due to wind, hail, and other severe weather conditions. Storm damage can be dangerous because it leaves the roof vulnerable to leaks. We can locate and repair storm damage to the roof and ensure that there are no leaks.
Shingle Repair and Replacement: The first layer of protection on a roof is the shingles which is why they are susceptible to minor damage. Broken shingles can lead to bigger problems by allowing moisture to build up under them, leading to mold and structural issues. Reliable Roofing will repair or replace the broken shingles on your roof.
Leak Repair and Prevention: A small roof leak may not seem like a big deal, but it can be quite damaging. The water from the leak can get absorbed into the surrounding structural materials which can lead to major damage over time. We will uncover and repair any leaks in your roof.
Commercial Roof Repair: Our commercial roofing technicians are ready to provide any repair services necessary for your commercial roof.
Roof Restoration: If the roof of your building has become worn out or has started to deteriorate, Reliable Roofing can restore it to get it back to a serviceable condition.
New and Existing Penetration Tie-Ins: If the tie-in materials that seal the penetrations in the roof become damaged, it could cause leaks. Our technicians can repair or replace tie-in material that has been damaged.
Warranty Repair Work: The roof repair services we provide are covered by a manufacturer's warranty.
The roof over your business, healthcare facility, office, retail store, or school must be able to effectively protect the people and assets within. If there is any damage to your roof, call Reliable Roofing immediately at (815) 981-9801. Our technicians will respond within 24 hours of your call to provide commercial roof repair services for your business in Lake Zurich, IL.
---
Recent Reviews
Review by

Frank
Rating

"We are all so impressed with the new roof on our church and the adjoining school! We will use Reliable Roofing every time we have a roofing need"
---
Review by

Jacqui.
Rating

"Reliable Roofing has been my roofer for many years and their expertise, reliability and professionalism is why I will never use another roofer."
---
Review by

Peter
Rating

"I appreciated the professional manner and all around cleanliness of the crew that put the new roof on our office."