Reliable Roofing
Commercial buildings house all types of businesses and institutions, from offices and factories to schools and healthcare facilities. It is important for a commercial building to effectively protect the people, property, and assets of a business or organization, and providing adequate protection starts with the roof.
Commercial roofs are built to last much longer and endure more abuse than residential roofs, but they are still vulnerable to damage and other issues. Severe weather, tree branches, animals, and other factors can cause minor to severe damage to commercial roofing systems.
If roof damage is not addressed, it could lead to leaks and additional damage that can threaten the integrity of the roof. You must work with a trusted commercial roofing contractor, such as Reliable Roofing that can provide effective repair services and maintenance to extend the life of your roof.
Trusted Commercial Roofing Contractors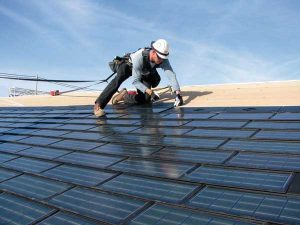 Reliable Roofing is a trusted commercial roofing company that provides complete repair and maintenance services in Lake Zurich, IL. We can effectively repair any issue with all types of commercial roofing systems and provide effective maintenance to preserve their integrity. Our professional roofers are committed to providing ethical, cost-effective services and we use the best available roofing products from the industry's most trusted manufacturers. We are licensed and bonded by the state of Illinois to work on commercial roofs and are insured up to $10 million.
Reliable Roofing is a proud member of the National Roofing Contractors Association (NRCA). Our commercial roofers always use the best practices and materials when it comes to servicing your roof.
We are prepared to provide repair and maintenance services for the following types of commercial buildings:
Warehouses
Offices
Restaurants
Schools and universities
Corner and retail stores
Hospitals and healthcare facilities
Churches
Quality Commercial Roofing Services
It is important to react immediately to any problems with your commercial roof because ignoring issues will lead to expensive damage that can eventually threaten the people and property within. Reliable Roofing always responds within 24 hours of customer requests to help prevent roof damage from getting worse.
We offer the following commercial roofing services:
Commercial Roof Repair: Any type of commercial roof can experience damage from a number of factors, such as weather and animals. We can repair minor damage as well as locate and fix leaks to prevent additional problems.
Commercial Roof Replacement: Reliable Roofing can fully replace commercial roofing systems if they have become excessively damaged or worn out.
Installation: We can properly install commercial roofing systems for new or existing buildings.
Roof Construction: We can provide full construction services to rebuild roofs that have sustained major damage.
Commercial Roof Maintenance: We can prevent general wear and tear and address damage before it becomes a major problem with regular commercial roof maintenance.
Sheet Metal Roofing: More commercial buildings are being built with sheet metal roofing because it is strong and energy efficient. Our technicians are prepared to provide repair, maintenance, and installation services for sheet metal roofing.
Roofing Product Selection: Reliable Roofing always uses the best available roofing products that we get through our partnership with the roofing industry's most respected manufactures.
Commercial roofing systems provide some much-needed durability to commercial buildings, but they are still vulnerable to damage and leaks. Failure to keep up with the damage or routine maintenance can shorten the life of the roof, ultimately costing your company or organization more in the long run to replace it.
Our commercial roofing repair and maintenance services will help preserve the life and integrity of your roof so you can use it to its full potential. Contact Reliable Roofing at (815) 981-9801 if you need commercial roof repair, maintenance, or installation services in Lake Zurich, IL.
---
Recent Reviews
Review by

Frank
Rating

"We are all so impressed with the new roof on our church and the adjoining school! We will use Reliable Roofing every time we have a roofing need"
---
Review by

Jacqui.
Rating

"Reliable Roofing has been my roofer for many years and their expertise, reliability and professionalism is why I will never use another roofer."
---
Review by

Peter
Rating

"I appreciated the professional manner and all around cleanliness of the crew that put the new roof on our office."