How to Restore Electronics from Soot and Smoke Damage
When a fire breaks out on your property, it is an especially concerning issue. In such an event, your top priorities are to call 911 for help and to make sure the property has been evacuated. Whether it is your home or business, you want to ensure that everyone is safe from the fire's harm. The flames will engulf whatever is in their path, potentially causing severe damage to your property and belongings. However, even after the fire has been extinguished, the damage isn't done. In fact, the secondary damage can be worse.
Fires produce smoke, soot, and other corrosive byproducts that will continue to linger and harm your property and personal contents well after the flames have been put out. The damage that smoke and soot can cause is particularly troublesome, because if not treated in time, the damage risks becoming permanent. So not only will you have to spend money on fire restoration, but you'll have to spend money on replacing whatever has been permanently damaged.
If these corrosive byproducts harm your electronics, then it can be stressful to deal with. Electronics are expensive investments that are often used on a daily basis, so people value these belongings and view them as necessities. If these electronics are used for business purposes, then it's even more stressful because the damage may prevent you from getting your work done. All hope is not lost if your electronics do suffer damage by smoke and soot — that is if you act quickly enough.
Use the following guide to learn more about electronics harmed by smoke and soot, what to do with your damaged electronics, and how to restore your electronics following smoke and soot damage.
How Are Electronics Damaged in a Fire by Smoke and Soot?
Sometimes, it will be evident that your electronics have suffered damage in a fire because its exterior will show evidence of damage. But even if your electronics look fine on the outside and as though they've been unaffected by the fire and its after-effects, this doesn't make that true. The damage may have only been done to the interior of the devices. There are different types of harm that can be done by fire, smoke, and soot, and they can all make the affected electronics unsafe to use.
Fire-Damaged Electronics
Many electronics are made of plastics and metals. When exposed to high temperatures, these materials will produce toxins, damaging the electronics. If you try to use these damaged electronics, the damaged components can end up emitting more hazardous chemicals, putting people in the property at risk.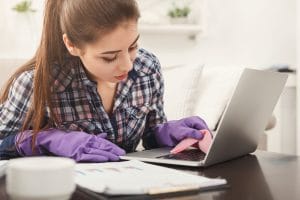 Smoke-Damaged Electronics
When smoke seeps into your electronics, reaching interior components, it leaves behind a black film. This film provides insulation and makes the electronic device or appliance more prone to becoming overheated, which can shorten its lifespan. This is because electronics that overheat more often are more likely to fail prematurely.
Because of its magnetic charge, smoke can also cause an electronic device to short circuit, making the object a potential fire hazard.
Soot-Damaged Electronics
The smoke from a fire also produces soot: a black residue formed as a result of incomplete combustion. Whether soot covers the outside of your electronics or is found inside, soot is dangerous because of its acidity. This acidity can cause your electronics to become discolored and deteriorate, thus lessening their lifespan.
What Should I Do About My Electronics Damaged by Smoke and Soot?
Do not try to turn on or use any of your electronics after they were in a fire. You may not see any damage outside, but there's likely interior damage. If you try to use your electronics after a fire, you may make the problem worse and make your electronics permanently damaged. In addition, unplug your electronics and appliances, because the electrical system in your property may have suffered damage, too.
Afterwards, look for the warranties of your electronics in case they are not salvageable. You may be able to get replacements if you have a current warranty.
How Do I Restore My Electronics Damaged by Smoke and Soot?
No matter the extent of the smoke and soot damage done to your electronics, the best thing to do regarding cleaning and restoration of your damaged electronics is to seek professional help from a smoke damage restoration service.
If you attempt to clean or repair the smoke and soot damage yourself, you can easily make the damage worse. Professional technicians are more expensive than using do-it-yourself techniques, but it's worth it for their knowledge and expertise, and it's cheaper than having to replace every damaged electronic. Because they know what they're doing, professionals will be able to start the restoration process right away, which limits the chance of any damage suffered from becoming permanent.