Little Things That Can Cause Big Fires
Just three years ago, 1,800 people died in residential fires. In the same year, 2016, injuries caused by home fires totaled 7,000. The US Fire Administration provides similar, dramatic statistics every year, meaning residential fires show no signs of stopping. As a homeowner, however, you can reduce the chances of sparking a large, fatal fire and its related injuries. Be aware of the little things in your home that can reduce your property to ashes within seconds. Everyday activities that are often taken for granted, like cooking, using the heat, smoking and doing laundry, can be fire hazards and should be approached with care.
How does cooking cause a fire?
The simple act of preparing a homemade meal is a daily essential. While prepping meals may be a delight for adventurous foodies, kitchen safety is an absolute requirement for all those handling the stove.
Kitchen fires are among the number one cause of residential building fires—at 50.3 percent of all types of fires, according to the US Fire Administration.
Splattering oil, unattended stovetops and oven mitts or towels that haphazardly hang too close to the flames are notorious for causing uncontrollable bursts of flames. Any food cooking on the stove requires constant monitoring.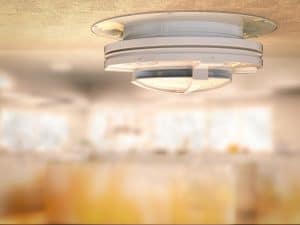 The likelihood of kitchen fires amplifies when cooking on a dirty stove. The accumulated greases surrounding the burners can spark into a mammoth blaze. Keep the stovetop clean and ward off cooking fires.
Baking and roasting can equally cause an ignition of flames. If you are using the oven, keep a close watch on the roasting foodstuffs, especially since accumulated grease in the bottom of the oven can catch fire. Keep a fire extinguisher close by and be sure you know how to use it.
What risks are associated with heat?
Although heaters offer much-needed relief from the biting cold, the US Fire Administration warns that 9.6 percent of home fires are sparked by heating equipment—a number only second to cooking fires.
While a home is equipped with numerous means of heat (fireplace, portable heaters, furnace), homeowners should be careful when using them.
The cozy nook of the fireplace can burst into flames if left unmaintained. Massive amounts of soot and debris gather in a frequently utilized fireplace, making it a fire hazard if left uncleaned. Hire a chimney sweep once a year to clean the fireplace. When the flames dance in the fireplace, ensure blankets, similar flammable materials and the kids are kept a safe distance away.
Portable heaters are a convenient and quick expulsion of heat, but they can be deadly when not used properly. Never leave a portable heater unattended. Shut off the unit prior to going to bed. Any loose connections or frayed wires should be immediately replaced to prevent sparks.
A huge fire can erupt when a furnace flame has the chance to "roll out", a phenomenon that occurs when flames inside the furnace burst out and catch onto flammable materials nearby. Simply changing the air filter regularly will keep the airflow unimpeded and stop the flame rollouts. Annual maintenance also helps to keep the furnace operations in check.
How dangerous is smoking in the home?
If the act of smoking is not a danger in itself, smoking in bed definitely should rattle your nerves. The US Fire Administration reports that in 2016 alone, smoking caused 14.2 percent of fatal residential fires. A tiny cigarette can be the single source of a massive home fire, especially if left unextinguished during a drowsy night of drinking and slumber.
A cigarette three inches long can easily get trapped in the recesses of furniture, smoldering for hours between the cushions before exploding into a chaos of flames. Stay safe by regularly checking the furniture for fallen cigarettes. Large ash trays work best at containing flying embers.
If smoking in the garage is considered an alternative, be aware that the many flammable liquids housed inside the garage make it hazardous to light up there, too.
How to tell if electrical wiring is safe?
The slender wires that silently feed electricity to a home can, under certain circumstances, pose as a threat. Electrical cords and wires are a possible fire hazard if they are extremely aged or show signs of wear.
Old wiring that requires immediate attention include wires where the insulation is exposed via cracks. Replace damaged wiring before they spark a fire. Loose wiring has the potential to overheat and spiral into a house fire.
If you browse the flea markets for antique appliances, be careful to check that the wiring is updated. Brittle wiring that results from age and the drying that occurs over decades can be an unwanted fuel for flames.
How does doing laundry cause a fire?
Popping the wet clothes into the dryer from the washer is a no-brainer task. In contrast, keeping the dryer lint free takes a bit of effort—at least once a year.
Specks of lint gather inside the dryer vents, beneath the dryer and behind the unit. The lint is highly flammable and can erupt in an avalanche of flames inside the dryer vent. Tens of thousands of dryer fires occur each year because of the lack of dryer maintenance.
The smallest household gadgets and the most mundane household activities can spark major flames, if left unchecked. In the event your home undergoes a fire, contact emergency officials right away. Once the fires are doused, immediately call a fire damage restoration company to start the restoration process.
Trained to fight the dangerous aftereffects of fire, smoke and soot, the skilled technicians take swift steps toward effective fire damage cleanup. Specialists handle all sizes of fire damage in both residential settings and commercial ones. The sooner contact is made with a restoration professional, the greater the chances your property can be recovered.