Removing Mold from Wood Materials Safely and Effectively
Mold growth is more than just an unsightly nuisance. Not only can mold cause damage to affected materials and surfaces, but it can also cause anyone who is exposed to it to suffer from health issues. Furthermore, mold will continue to spread with time if not contained. Because of this, any sign of mold growth needs to be addressed as soon as possible.
For mold to grow, it requires a moisture source and a food source. Often, building materials are affected by mold growth due to their cellulose content, a substance that is a common food source for mold. One example of this is mold that has grown on wood materials.
Wood is a porous building material, so it absorbs and holds excess water and moisture. This makes it easy for the water to spread throughout a property. Mold spores that encounter damp wood find the moisture and food sources needed to trigger the growth of mold colonies. Because of this, wood is a perfect breeding ground for mold.
If you ever find that mold has grown on the wood materials in your home, then you need to take immediate action to prevent further damage and to limit the potential health concerns it may cause.
Removing Mold from Wood
Protect Yourself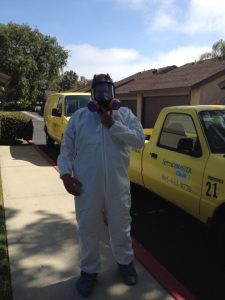 Before you start working to clean and remove the mold, you first need to protect yourself from the mold's spores. As aforementioned, mold can cause people to suffer from health problems. If exposed to mold, people can experience allergic reactions, which include nasal congestion, skin and eye irritation, coughing, wheezing, and more. With prolonged exposure to mold, the health effects worsen, and can even lead to more serious infections.
Knowing this, it is imperative that you wear the proper protective gear when addressing a mold problem. Wear rubber gloves, a face mask, and safety goggles.
Vacuum Loose Mold
Get a vacuum with a HEPA filter to capture any loose mold. Use it on the affected area so that it will gather loose mold spores in addition to any lingering dirt and debris. When you are done vacuuming, make sure you take the machine outside and empty the bag.
Clean and Remove the Mold
There are numerous ways to remove mold from wood: bleach, vinegar, cleaning detergent, or mold removal cleaning products. Using a mixture of warm water and cleaning detergent is meant for milder cases, so do not opt for this choice if the mold is harsh.
Removing Mold from Wood with Cleaning Detergent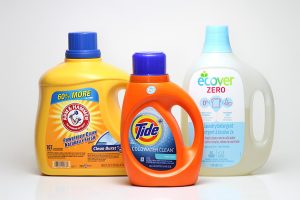 Create a solution by combining a mild cleaning detergent with warm water. Then grab a soft-bristled brush and use it to scrub the area with the mixture. Use a sponge or towel to soak the excess moisture and rinse the area with clean warm water. Allow time for it to dry.
Removing Mold from Wood with Bleach
Create a solution of 10 parts bleach, 1 part detergent, and 20 parts warm water. Transfer the mixture into a spray bottle and spray it onto the moldy section. Using a stiff brush or sponge, scrub the area to get the solution to go deeper in the wood. Allow time for air drying.
Removing Mold from Wood with Vinegar
To use vinegar for mold removal, put some vinegar into a spray bottle. Apply it to the affected surface and allow it to sit for one hour. When you return to the area, rinse it with water, wipe it down, and let it dry.
Sand the Wood
Because wood is a porous material, the mold is likely deep in the wood and may not be completely removed after cleaning it with whichever solution you chose. Knowing this, you need to sand down the wood to reach the mold that is deeper into the material.
Get sandpaper and slowly work on the sections surrounding the affected area. Continue sanding until you no longer see mold. Ideally, you should also refinish the wood. This will improve its appearance and prevent future mold growth.
Any items you used during the mold removal process should be discarded safely.
Professional Mold Remediation Services
Although there are home remedies you can use to conduct mold removal, removing mold from wood is not always a task you should take on yourself. Some examples include cases of mold that affect more than 10 square feet, or if you are sensitive to mold. In these situations, the risk of cleaning mold yourself is too great. You do not want to put your health and well-being in jeopardy.
In such a case, you still need to act immediately, so seek help from a professional mold remediation service. Professional technicians have the knowledge and equipment needed to remove mold in a safe and proper manner. With professionals conducting the mold remediation, you will not need to expose yourself to it any further, limiting the harm the fungus causes to you.
Technicians will assess and contain the damage, address the moisture source, remove the mold, and restore the damaged material/surface. This professional service will ensure that your property is free of mold growth and safe to return to.