Smoke Alarm Testing
When it comes to the safety of you, your family, and all of the structural elements in your home, a fire alarm should be considered one of the most important devices in your home. Although fires don't occur often, they can happen at any time. When they do, these items can be life-saving, alerting everyone to evacuate safely before the fires spread too far.
But these items can only be trusted if they are tested properly and on a frequent basis. Check out the importance of smoke alarm testing and how to do it to protect you and your family from an emergency fire.
The Importance of Smoke Alarm Testing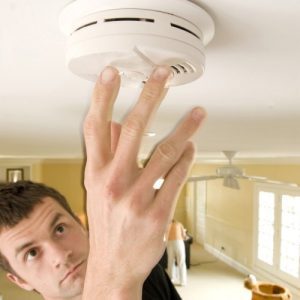 While electronic devices indeed provide convenience to our lives, they still require frequent monitoring and maintenance in order to remain operable and dependable. This includes changing batteries and other parts as they will die over time. But these are only one way to keep your family safe in the event of a fire within the home.
How Often to Test Smoke Alarms
All smoke detectors in the home should be tested at least once a month while replacing the batteries every six months, according to the U.S. Fire Administration (USFA). A good tip to remember is when changing the clocks during daylight savings time – switch out the batteries on the alarms and the hour on the clock.
If any of the following occur, be sure to check the smoke alarm more often:
The alarm goes off without any smoke or anyone touching it.
Kitchen smoke frequently triggering the alarm, wearing it out faster.
The alarm gives false alarms.
2 Different Types of Smoke Alarms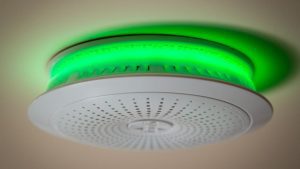 Fortunately, there are only 2 different types of smoke alarms so they shouldn't be too confusing figuring out each one.
Hard-wired: These units are considered much more reliable because they are powered by the electricity; however, they need to be installed by an electrician as the wiring can get complicated. Just be sure to have a battery backup installed in the event that the power goes out and causes a fire.
Battery-operated: Although less reliable, these smoke alarms are inexpensive and are much easier to install. Just be ready to keep up with the testing and maintenance.
Extra Features
While there are only 2 different types of smoke alarms, others have more features than others. Those that are newer have a quiet button that will silence the alarm and turns off the detector until the air is cleared of smoke. The unit then resets itself. There are also high-end detectors that have safety lights that turn on when the alarm is activated.
But all smoke alarms and detectors have test button that will sound the alarm when pushed. Most alarms also have a light, either blinking or solid, to notify when it is being powered.
How to Test Smoke Alarms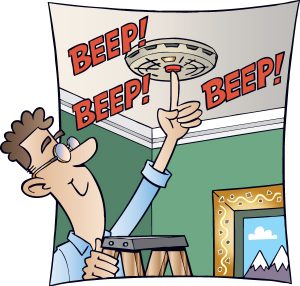 Before moving to test the alarm, always check the manufacturer's instructions as they will the proper way to test the alarm. However, with most hard-wired and battery-operated alarms can be tested using the steps below.
1. Alert Family Members
Especially with young children, let everyone know what you will be doing as the alarm will create a high-pitched sound that can frighten them.
2. Ensure the Fire Alarm can be Heard
Ask a family member to stand at the furthest distance away (that is still in the home) from the alarm when testing it. This will be critical when depending on the alarm to be heard from any room in the home. But if the sound is muffled, weak, or low, consider installing another in the same room.
3. Press the "Test" Button
When everyone in the home knows you will be testing the smoke alarm and another person is at the furthest point away from the detector, go ahead and press the "Test" button. It may take a second, but you will hear a high-pitched, ear-piercing alarm. But if the sound comes out weak, low, or not at all, change the batteries. Or if they haven't been changed in over six months, change them right away.
Also remember to keep the smoke alarm dust and debris-free to avoid blockage within the grates. This can also prevent the alarm from working even with new batteries.
Lifespan of Smoke Alarms
If you have already replaced the batteries and removed the dust from the smoke alarms and they still don't work, consider how old the device is. Most alarms have a lifespan of 10 years, according to the USFA. But to be sure, check the manufacturer's instructions.
Preventing Fire Disasters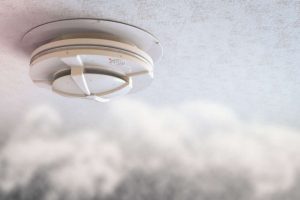 While installing, testing, and inspecting smoke alarms can seem like a chore, it is essential in order to keep you and everyone in the home safe. Simply by taking a few minutes every 6 months to ensure they are in proper working condition can save lives.
However, smoke alarms can be faulty and accidents do happen. In any event that you notice a fire and the smoke alarm doesn't go off, alert everyone in the home and evacuate immediately. After ensuring everyone's safety, call the fire department right away.
Emergency Fire Damage Repair
But the damage doesn't stop here. While the flames may be extinguished, dangerous byproducts created from the flames still linger within the home, covering each surface until evaporating on its own or treatment occurs. This is why it is essential to call a fire damage restoration service immediately. Doing so can save your building materials and personal items, removing all smoke and soot byproducts while restoring them to their original conditions.
ServiceMaster is one of the most reputable fire damage restoration companies in the nation. They are not only licensed and experienced but are available 24/7 and will respond immediately to any fire damage emergency in the area. Don't hesitate to contact your local provider and they will arrive to your home within 2 hours with all equipment and products to return it to its original condition.
Finally, ServiceMaster will work with your insurance company – if you chose to file a claim – to allow the process to run smoother for you and your family. Within a timely manner, you can expect that your home will be returned to its original condition after an effective and efficient service.