ServiceMaster by Replacements
Hoarding is often a symptom of great mental distress such as depression or anxiety. The affected individual will allow items to pile around the home, and soon the environment will become hazardous and unsanitary. When this occurs, a home remediation company can help provide hoarding cleaning services and help get the situation under control.
ServiceMaster by Replacements provides hoarding cleanup services in Elizabeth, NJ. Our technicians are IICRC-certified and trained to approach cases of hoarding with professionalism and confidentiality. We will help empower the affected individual to decide what gets thrown away, recycled, or donated.

Hoarding Tendencies
Hoarding becomes a habit that gets out of control due to mental stressors such as depression or anxiety.
As piles of items grow, the home of the affected individual becomes unsanitary and even dangerous. Tall stacks of items can fall, emergency escape routes may become blocked, and bacteria and mold can easily begin to grow in neglected areas.
It is always best to confront a loved one about their hoarding. The situation can only worsen if a hoarding cleaning service is not contacted as well.
Hoarding tendencies often create the following hazards in a home:
Infectious Bacteria: As items and garbage continue to accumulate in a hoarder's home, so does dust, mold, bacteria, and other debris. These can cause allergies and other forms of disease over time.
Tipping Hazards: Hoarding can create dangerous situations where piled high items can fall and cause injury.
Blocked Escape Routes: Hoarded items can block entrances or pathways to safety during a fire or other emergency.
Fire Hazards: Piles of hoarded items are often in areas susceptible to fire hazards such as outlets, appliances, ovens, candles, and other sources of heat.
Hoarding Cleanup in Elizabeth, NJ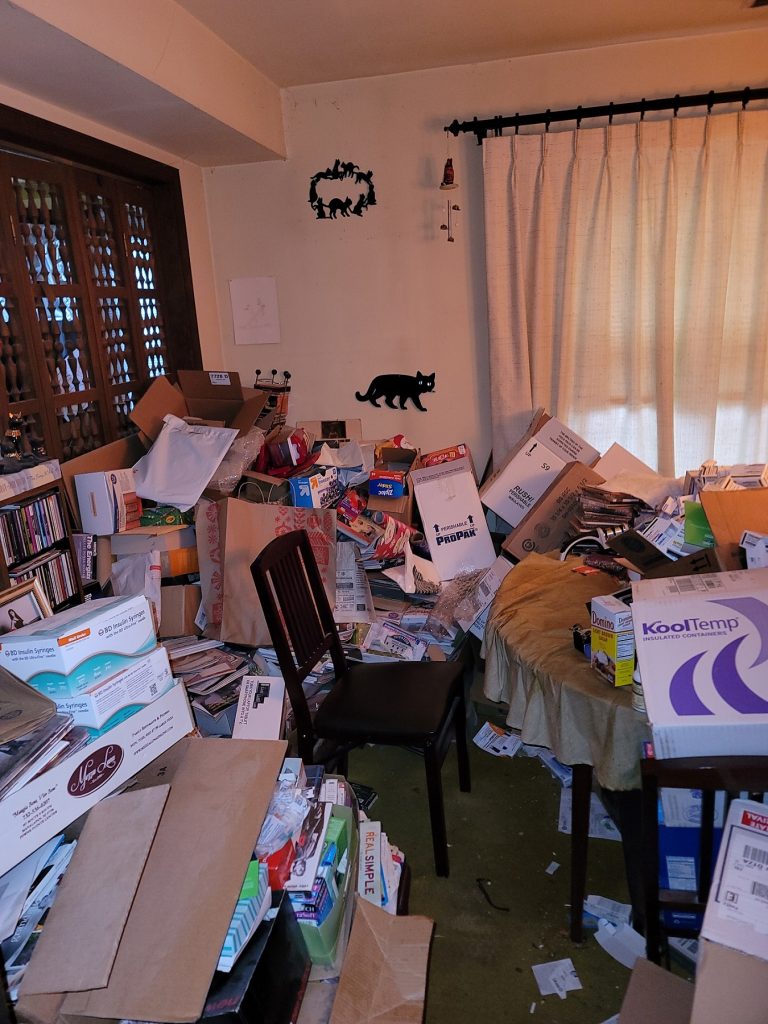 ServiceMaster by Replacements has been assisting residents of Elizabeth, NJ clean up hoarding situations for over 30 years.
Our experienced team understands how important empathy and professionalism is when approaching an individual affected by hoarding.
We do everything to put the cleanup plan in their control, and even follow up with the individual to see that the hoarding situation remains under control.
build trust with the affected individual and empower them to make decisions in the cleanup process.
Our hoarder cleaning services in Elizabeth, NJ include the following:
Establishing Trust with the Individual: When our technicians arrive, they will work to build a relationship with the individual who is affected by hoarding. This is an important first step to cleaning up a hoarding mess.
Create a Plan: We will work with the individual to create a hoarding cleaning plan that they accept. This will include choosing what items can be taken to a donation center or recycling facility.
Follow Up: Individuals who suffer from hoarding should be regularly checked upon to see that good habits remain in place. ServiceMaster by Replacements will periodically make phone calls to follow up with the individual and ensure the situation is under control.
Hoarder Cleanup in Elizabeth, NJ
ServiceMaster by Replacements is available at (732) 844-6232 in Elizabeth, NJ to provide hoarding cleaning services.
---
ServiceMaster by Replacements also provides hoarding cleaning services in the following areas:
Hoarding Cleanup – Manalapan, NJ
Hoarding Cleanup – Long Branch, NJ
Hoarding Cleanup – Matawan, NJ
Hoarding Cleanup – Cranford, NJ
Hoarding Cleanup – Union, NJ
Hoarding Cleanup – Elizabeth, NJ
Hoarding Cleanup – Springfield Township, NJ
Hoarding Cleanup – Manchester, NJ
Hoarding Cleanup – Neptune, NJ
Hoarding Cleanup – Tinton Falls, NJ
Hoarding Cleanup – Marlboro, NJ
Hoarding Cleanup – Jackson Township, NJ
Hoarding Cleanup – Freehold, NJ
Hoarding Cleanup – Wall Township, NJ
Hoarding Cleanup – Lakewood, NJ
Hoarding Cleanup – Red Bank, NJ
Hoarding Cleanup – Holmdel, NJ
May 16, 2017
Walter Biel
OCEAN GROVE, NJ
See All Reviews