ServiceMaster by Replacements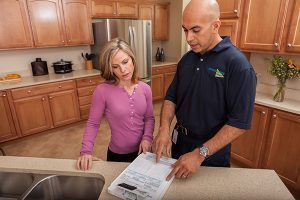 It's not easy to confront a hoarder, especially if they are a loved one. However, it's the most important step to take when it comes to improving their livelihood and cleaning up the situation. Reach out to a home remediation company to help with the cleanout in a way that's professional and compassionate.
ServiceMaster by Replacements provides hoarding cleanup services for homes in the Manchester, NJ area. Our technicians approach these situations with the utmost care and work with the affected individual to resolve their hoarding situation. We will develop a cleanup plan that empowers the affected individual, and work to remove excess items and move them to donation or recycling centers.
Hoarding is often a symptom of mental distress such as anxiety or depression. It's important to reach out to loved ones who are showing signs of a hoarding habit, as the situation can soon get out of control.
As piles of items grow within a home or apartment building, the space can become unsanitary and dangerous. Items and junk near outlets, appliances, and heat sources create fire hazards. Piles of items block escape routes in the event of an emergency and tripping hazards become a major issue. Finally, neglected items, food, or areas of the home are likely to grow mold and infectious bacteria over time.
With our professional hoarder cleanup services, we will approach the hoarding situation with empathy and respect. We work with the affected individual and empower them to make the decisions in the cleanup process.
Our hoarder cleaning services in Manchester, NJ include:
Establishing Trust with the Individual: When our technicians arrive, they will work to build a relationship with the individual who is affected by hoarding. This is an important first step to cleaning up a hoarding mess.
Create a Plan: We will work with the individual to create a hoarding cleaning plan that they accept. This will include choosing what items can be taken to a donation center or recycling facility.
Follow Up: Individuals who suffer from hoarding should be regularly checked upon to see that good habits remain in place. ServiceMaster by Replacements will periodically make phone calls to follow up with the individual and ensure the situation is under control.
Contact us for Hoarding Cleanup in Manchester, NJ
ServiceMaster by Replacements is available 24/7 to respond to calls for hoarding cleanup in the Manchester, NJ area. Call us at (732) 844-6232 for professional hoarder cleanout services.
---
ServiceMaster by Replacements also provides hoarding cleaning services in the following areas:
Hoarding Cleanup – Manalapan, NJ
Hoarding Cleanup – Long Branch, NJ
Hoarding Cleanup – Matawan, NJ
Hoarding Cleanup – Cranford, NJ
Hoarding Cleanup – Union, NJ
Hoarding Cleanup – Elizabeth, NJ
Hoarding Cleanup – Springfield Township, NJ
Hoarding Cleanup – Neptune, NJ
May 16, 2017
Walter Biel
OCEAN GROVE, NJ
See All Reviews