ServiceMaster by Replacements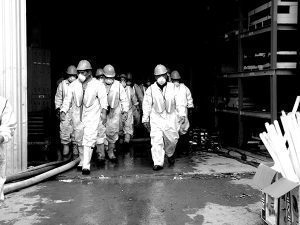 Coming across the scene of a crime, suicide, or biohazard situation can be shocking. However, it's important to maintain control, contact proper authorities, and get the property cleaned up and back to normal. A disaster restoration team is often the professional service to take on such cleanup jobs.
ServiceMaster by Replacements provides biohazard cleanup services throughout Manchester, NJ. Our technicians are IICRC-certified to handle the cleanup of biohazard materials safely and effectively. Our crime scene cleaners are also prepared to work with local law enforcement to ensure no interference is made with an investigation.
Biohazards often include bodily fluids such as blood or waste materials. It's important to stay clear of these materials as they can be infectious and harmful to your health. Our technicians are equipped with the proper gear to handle these biohazards safely. We will dispose of things like bodily fluids and body tissue at a medical waste facility, and clean and restore the affected property.
Our biohazard cleanup and crime scene cleaning services in Manchester, NJ include:
24/7 availability and fast response times to crime scenes, suicides, natural deaths, and biohazard spills
Thorough and effective cleaning, disinfection, and removal of biohazard materials
Deodorization of any foul odors present at the scene
Protection of privacy and professionalism when dealing with sensitive scenarios
Crime scene cleaners that operate in compliance with local law enforcement and federal regulations
Contact Us for Biohazard Cleanup and Crime Scene Cleaners in Manchester, NJ
If you happen upon the scene of a biohazard or crime in Manchester, NJ, you can call ServiceMaster by Replacements at (732) 844-6232 for complete cleanup services.
We are available 24/7 to respond to biohazard cleanup emergencies.
---
Related Biohazard Cleanup Services:
Biohazard cleanup in Manalapan, NJ
Biohazard cleaning in Long Branch, NJ
Biohazard and crime scene cleaners in Matawan, NJ
Crime scene cleaners and biohazard cleaning in Union, NJ
Biohazard cleanup in Elizabeth, NJ
Biohazard cleaning in Springfield Township, NJ
Crime scene cleaners in Neptune, NJ
May 16, 2017
Walter Biel
OCEAN GROVE, NJ
See All Reviews