ServiceMaster by Replacements
Finding a severe injury or death on your property can be both overwhelming and dangerous to your health. As these areas are typically affected by biohazardous materials including blood and bodily fluids, it's crucial to keep your distance. Don't hesitate to first call the authorities to start an investigation, followed by a biohazard cleanup service as the EMTs are not responsible for the cleanup.
ServiceMaster by Replacements is available in Matawan, NJ, and the surrounding areas to provide crime scene cleaning services. Our property restoration professionals are licensed, trained, and experienced to use professional products and methods guaranteed to remove all biohazards and eliminate the remaining bacteria. Our team will first get clearance from the authorities to avoid compromising an investigation and will work with them each step of the way.
Biohazard Cleanup in Matawan, NJ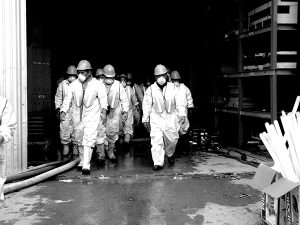 It's traumatic to witness a crime scene or violent death but keeping your distance from the area is essential. These areas are often filled with blood, tissue and bodily fluids that can spread a number of infectious diseases.  This is why only trained professionals should handle the cleanup service.
ServiceMaster by Replacements uses all precautions and equipment necessary to restore the scene to its original condition. While using PPE, we will remove all biohazards, transport them to a licensed medical waste facility, and disinfect the affected surfaces, removing any stains and odors left behind.
Crime Scene Cleaners in Matawan, NJ

Our crime scene cleaners understand these situations are very traumatic, which is why we take a compassionate approach to the cleaning services. Our professionals are IICRC-certified and trained to respond right away, contain the biohazards, and follow IICRC and OSHA standards to disinfect the area. We will also pay attention to hidden cracks and crevices to ensure the scene is fully cleaned.
Our biohazard cleanup services in Matawan, NJ include each of the following:
Removing all biohazards from the affected area
Deep cleaning and disinfection
Odor removal using advanced technology
Responsive services and protection of your privacy during the service
Licensed crime scene cleaning professionals who follow IICRC and OSHA regulations
Our biohazard cleanup services in Matawan, NJ cover each of the following scenarios:
Crime scenes
Hoarding
Neglected properties
Natural death
Violent accidents
Suicides
Free Estimate Crime Scene Cleaners in Matawan, NJ

Don't hesitate to contact your local EMTs as well as ServiceMaster by Replacements at (732) 844-6232 for professional biohazard cleanup services in the Matawan, NJ area.
We are available 24/7 for biohazard cleanup and crime scene cleaning.
---
Related Biohazard Cleanup Services:
Crime scene cleaners in Neptune, NJ
Biohazard cleanup in Manalapan, NJ
Biohazard cleaning in Long Branch, NJ
Crime scene cleaners and biohazard cleaning in Union City, NJ
Biohazard cleanup in Elizabeth, NJ
Biohazard cleaning in Springfield Township, NJ
Biohazard cleanup in Manchester, NJ
May 16, 2017
Walter Biel
OCEAN GROVE, NJ
See All Reviews