RestorationMaster
Water is among the most common disasters for properties of all sizes due to the numerous potential sources. Everything from flooding and excessive rain to burst pipes, plumbing and appliance leaks and sewage backups can result in water damage. In any case, immediate action should be taken to extract the water and prevent the damage from spreading. As it flows easily throughout porous materials, they will quickly sustain damage and become vulnerable to mold growth.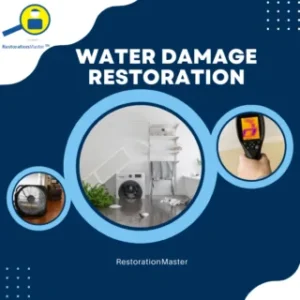 RestorationMaster is available 24/7 in Matawan, NJ and the surrounding areas to provide water damage restoration for residential and commercial properties. Our property restoration professionals are each trained to extract standing water while cleaning out the affected spaces to prevent permanent damage. We can also extract sewage water while disinfecting hard surfaces from bacteria.
If sewage or waste materials have mixed with the water, our technicians also provide sewage cleanup in Matawan, NJ.
Types of Water Damage

Standing water in your property can result in thousands of dollars in property damage, especially if left to spread.
Porous materials like insulation, wood, flooring, wallpaper, and furniture all absorb water quickly and are vulnerable to mold growth if not treated right away. Mold removal will then be necessary.
As soon as the mold starts growing, it will also spread by dispersing spores into the breathing air, triggering allergies and asthma issues. Our water damage restoration technicians can prevent this from happening, provided they are called right away.
Water Damage Restoration Matawan, NJ

Don't hesitate to call RestorationMaster as soon as you notice the damage on your property. We will arrive as soon as possible to prevent it from spreading by extracting the water and setting up dehumidifiers to dry out the affected space. We will also dry out and sanitize personal contents affected by the water.
Our team in Matawan, NJ provides each of the following within our water restoration services:
24/7 Availability: Our professionals are available 24/7/365 to respond to all water and flood damage emergencies.
Industry leadership: Our team has been a leader in the water restoration industry for over 30 years.
Experienced water damage restoration: Our water extraction and mitigation methods have been perfected over time to guarantee the best results.
Advanced equipment: RestorationMaster only uses the latest equipment to provide true peace of mind while drying out the affected area.
IICRC-certified: Our water restoration professionals are both trained and IICRC-certified, following all industry standards.
Content cleaning and pack out services: Our professionals can restore high-value items, either onsite or at our 10,000 square foot warehouse.
Insurance assistance: RestorationMaster is a preferred vendor for most major insurance carriers.
Free Estimate Water Restoration in Matawan, NJ

Don't hesitate to call RestorationMaster at (732) 338-0713 for emergency water damage restoration and sewage cleanup services if your property has sustained critical damage in Matawan, NJ.
---
Related Water Damage Restoration Services:
Water restoration in Neptune, NJ
Water damage restoration in Manalapan, NJ
Water restoration in Long Branch, NJ
Water damage restoration in Union City, NJ
Water damage restoration in Elizabeth, NJ
Water restoration in Springfield Township, NJ
Water damage restoration in Cranford, NJ
Water damage restoration in Manchester, NJ
Basement flood cleanup in Manchester, NJ