RestorationMaster
Property damage can be caused by many things, but water is the most common cause of property damage because of the numerous ways it can occur. Excess rain can get into your home or business and cause water damage while plumbing leaks and burst pipes can be internal causes of water damage. But no matter how the damage occurred, it is important to act quickly and have a disaster restoration crew extract the water. The excess water and moisture will be absorbed by and spread through porous materials, which become structurally damaged and at risk for mold growth.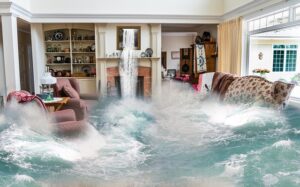 RestorationMaster provides water damage restoration for homes and businesses in Manalapan, NJ. The water restoration technicians we employ are equipped with the necessary equipment to extract standing water and moisture from damaged properties. Furthermore, we also will rid of any sewage water and thoroughly repair and clean up damaged areas.
If sewage or waste materials have mixed with the water, our technicians also provide sewage cleanup in Manalapan, NJ.
Types of Water Damage

Porous furnishings and building materials can become seriously damaged when they absorb excess water and moisture. When flooring, wood, insulation, wallpaper, drywall, and other porous materials absorb water, this allows the water to spread to new areas. With enough water absorption, the materials will suffer structural damage.
The materials that absorb water also become likely sites for mold growth due to the moisture. If mold does grow, then it will cause damage of its own and may even cause health problems to anyone exposed to it. If you call us for water damage assistance right away, we can contain the damage and help provide mold remediation services as well.
Water Damage Restoration in Manalapan, NJ

When you discover that your property has suffered water damage, promptly call RestorationMaster for help. Our technicians will contain the water to limit the damage and prevent further harm. We use advanced water extraction and drying equipment to extract the excess water and moisture. We will also prevent mold growth and restore any damage to your property and personal belongings.
The following reasons are why you should contact RestorationMaster for water damage restoration in Manalapan, NJ:
24/7 response: We are available to help with your water damage emergency on a 24/7/365 basis. No matter when your property suffers water damage, we can respond and limit the damage. Our water restoration crew will quickly come to your property.
Industry leadership: For more than 30 years, RestorationMaster has been trusted by homes and businesses to provide quality water damage restoration as leaders in the industry.
Advanced water restoration techniques: Using the industry's best water extraction and drying techniques, our staff will meet or exceed the industry's standards.
Advanced technology: Using specialized water extraction and drying equipment, our water damage restoration crews will extract standing water and effectively dry affected furnishings and materials.
IICRC certified: The water restoration technicians we employ are well trained and have the IICRC certification needed to provide water damage restoration services. Furthermore, we will follow industry standards when conducting our work.
Content cleaning: With our state-of-the-art 10,000 square foot facility, we can take your personal contents offsite to be cleaned and restored.
Insurance capabilities: To help with managing your claim, we will work with all major insurance providers.
Free Estimate Water Restoration in Manalapan, NJ
Immediately call RestorationMaster at (732) 338-0713 for our water damage restoration services if your home or business has sustained damage from water or flooding. We are available to help properties in Manalapan, NJ, and the surrounding communities with water restoration services.
---
Related Water Damage Restoration Services:
Water restoration in Neptune, NJ
Water damage restoration in Long Branch, NJ
Water restoration in Matawan, NJ
Water damage restoration in Union City, NJ
Water damage restoration in Elizabeth, NJ
Water restoration in Springfield Township, NJ
Water damage restoration in Cranford, NJ
Water damage restoration in Manchester, NJ
Basement flood cleanup in Manchester, NJ