ServiceMaster by Replacements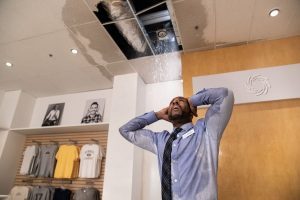 Basement floods are a common event of water damage in homes and businesses due to their low elevation and likelihood of water seepage underground. Sump pump failures are often responsible for floods in the basement as well. Water in the basement can cause rotting and warping of the property, and cause mold to grow soon after. If you discover a flood in your home or basement, it's best to reach out to a disaster restoration team right away.
ServiceMaster by Replacements provides basement flood cleanup and general flood restoration services in Manchester, NJ. Our technicians are available 24/7 to respond to cases of emergency flooding, as we understand the extent of damage a flood can cause. We will arrive quickly, extract all floodwater, and dehumidify and dry the area with advanced flood restoration equipment.
Flood damage is a major concern after severe weather, or even when inspecting a home for purchase. A basement flood that is ignored can cause extensive headaches over time, such as mold growth, and a weakened or damaged building foundation. The problems only get worse the longer you wait to contact professional flood restoration services.
Our flood cleanup services in Manchester, NJ include:
24/7 availability and fast response times to cases of emergency flood damage
Complete extraction of water from your basement, kitchen, or other areas of the property
Dehumidification and drying of the area affected by floodwater
Application of anti-microbials to prevent mold growth
Assistance with any insurance claim you have regarding the flood damage
Contact Us for Basement Flood Cleanup and Flood Restoration Services in Manchester, NJ
Whether it is a flooded basement, natural flooding from a severe rainstorm, or a sump pump overflow or failure, ServiceMaster by Replacements is here to help.
We are available 24/7 to provide flood restoration services to properties in Manchester, NJ. Call us at (732) 844-6232.
---
Related Flood Damage Cleanup Services:
Flood Damage Cleanup in Cranford, NJ
Flood Damage Repairs in Manalapan, NJ
Flood Damage Restoration in Long Branch, NJ
Flood Damage Cleanup in Neptune, NJ
Flood Damage Restoration in Matawan, NJ
Flood Damage Restoration in Union, NJ
Flood Damage Repairs in Springfield Township, NJ
Flood Damage Restoration in Elizabeth, NJ
Flood Cleanup in Manchester, NJ
Flood Damage Restoration in Tinton Falls, NJ
Flood Damage Cleanup in Marlboro, NJ
Flood Damage Restoration in Jackson Township, NJ
Flood Damage Restoration in Freehold, NJ
Flood Damage Restoration in Wall Township, NJ
Flood Damage Restoration in Lakewood, NJ
Flood Damage Cleanup in Redbank, NJ
Flood Damage Cleanup in Holmdel, NJ
May 16, 2017
Walter Biel
OCEAN GROVE, NJ
See All Reviews