ServiceMaster by Replacements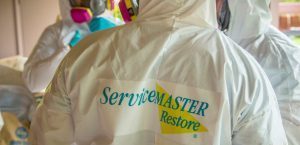 Whether in times of a pandemic or even just the regular flu season, the cleanliness and safety of your business are important to stay productive and profitable. For preventive measures or due to someone testing positive for a virus at work, you can reach out to a remediation company to sanitize the building and get things back to normal.
ServiceMaster by Replacements provides disinfection services for office buildings and other commercial facilities in the Manchester, NJ area. Our technicians are IICRC-certified and follow guidelines put forward by the CDC. We will arrive to assess the space, create a disinfection plan, and begin sanitizing high touch point areas with hospital-grade cleaning products. Then, we will fog larger spaces with wide spectrum biocide to ensure viral diseases such as coronavirus are eliminated.
Getting your office disinfected is a great way to protect employees and earn their trust, especially during uncertain times or a flu season. If a worker tests positive for a viral disease, it can put a halt to operations entirely. ServiceMaster by Replacements works fast and effectively to get your business back on its feet with our office sanitization services.
Our disinfection services in Manchester, NJ include:
Advanced technology: We use the best cleaning equipment available and our disinfectants are approved by the EPA.
Hospital standard products: Our hospital-grade, EPA-registered products are effective against dangerous pathogens including the coronavirus.
Trained professionals: Our professionals understand the best practices when it comes to applying disinfectants and we work within the guidelines set by health organizations like the CDC and World Health Organization (WHO).
Contact Us for Office Disinfection in Manchester, NJ
Whether it's an office, large warehouse, or an industrial facility, ServiceMaster by Replacements can fully disinfect and decontaminate the property in a way that's thorough, safe, and effective.
Call ServiceMaster by Replacements at (732) 844-6232 for disinfection services in Manchester, NJ.
---
Related Building Disinfection Services:
Sanitizing company in Manalapan, NJ
Office cleaning and disinfection services in Long Branch, NJ
Sanitizing and disinfection services in Matawan, NJ
Sanitization company in Union, NJ
Office disinfection in Elizabeth, NJ
Disinfection Services in Springfield Township, NJ
Disinfection services in Cranford, NJ
Office sanitizing company in Neptune, NJ
May 16, 2017
Walter Biel
OCEAN GROVE, NJ
See All Reviews