RestorationMaster
If you run a business or manage a commercial property, then the building should always be clean to ensure the safety and comfort of your employees, tenants, and customers. This has become even more important because of the COVID-19 pandemic. The disease easily spreads in areas where there are a lot of people, so it is crucial to maintain protection in commercial buildings. A great way to do this is to have professional disinfection done by a property restoration company.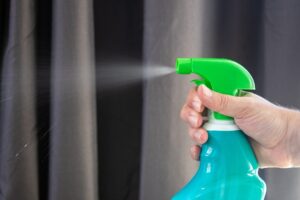 Helping businesses in Manalapan, NJ, RestorationMaster provides disinfection services to help protect against COVID-19 and other illnesses. Using EPA-registered disinfectants and advanced techniques, our professional disinfection services will eliminate hazardous pathogens. We will also abide by the protocols set by the Centers for Disease Control (CDC) and other health organizations. This will ensure full disinfection of your property.
What is COVID-19?
Also known as coronavirus, COVID-19 is a respiratory disease that spreads from person to person via air droplets. Cough, fever, chills, and breathing concerns are among the main symptoms for COVID-19. For elderly individuals, individuals with compromised immune systems, and individuals with underlying conditions, the symptoms are usually more serious. If infected, it can take anywhere from 2 days to 14 days for symptoms to appear.
Refer to the CDC's coronavirus FAQ to learn more about COVID-19 and its signs and symptoms.
Disinfection for Coronavirus Control in Manalapan, NJ

One of the most effective ways to prevent the coronavirus from spreading is to get your office or commercial building professionally cleaned and disinfected by a sanitization company. We will begin by removing dust and dirt, then we disinfect the property in its entirety to remove and neutralize hazardous pathogens. Our sterilization professionals will pay extra attention to objects and areas that are more commonly used for more thorough disinfection.
The EPA-registered disinfectants and advanced cleaning products we use have proven to be effective in killing pathogens like the coronavirus. We will also develop a comprehensive cleaning and disinfection plan and then share it with you. Our technicians will be professional and work in a discreet manner.
Within the disinfection services we provide in Manalapan, NJ, the following steps are included:
Cleaning and disinfection of high touch point surfaces, such as door handles, countertops, keyboards, phones, desks, light switches, and more
Decontamination of bathroom fixtures
Pathogen elimination by fogging the property with an EPA-registered, broad-spectrum biocide
Removal and disposal of contaminated materials
Why Call RestorationMaster for Disinfection Services in Manalapan, NJ?
When you contact RestorationMaster for the professional disinfection and cleaning services we offer in Manalapan, NJ, the following can be expected:
Advanced technology: Our technicians use EPA-approved disinfectants and the industry's best cleaning equipment.
Hospital standard products: We use EPA-registered, hospital grade products that are effective in eliminating the coronavirus and other dangerous pathogens.
Trained professionals: When applying disinfectants and conducting work, the professionals we employ know it's important to follow the guidelines provided by the CDC, World Health Organization (WHO), and other health organizations.
Sanitization Company Offers Disinfection Services in Manalapan, NJ
Call RestorationMaster at (732) 338-0713 for our commercial disinfection and cleaning services in Manalapan, NJ. With our help, your commercial property is protected from coronavirus and other illnesses.
---
Related Building Disinfection Services:
Office sanitizing company in Neptune, NJ
Office cleaning and disinfection services in Long Branch, NJ
Sanitizing and disinfection services in Matawan, NJ
Sanitization company in Union City, NJ
Office disinfection in Elizabeth, NJ
Disinfection Services in Springfield Township, NJ
Disinfection services in Cranford, NJ
Office disinfection in Manchester, NJ