RestorationMaster
When you come across a scene in your property that is the site of a death or serious injury, you understandably may be traumatized. However, it is also dangerous because many of these scenes include blood and other biohazard materials which can spread disease and infection. If a traumatic event happens on your property, you need to call law enforcement and EMTs to handle the scene. Be sure to keep your distance and then contact licensed professionals to handle the cleanup.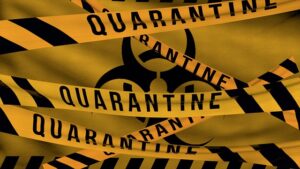 Helping homes and businesses in Manalapan, NJ, RestorationMaster provides biohazard cleanup services. Our technicians conduct effective biohazard removal by using advanced equipment and techniques. We also restore your home or business to a safe environment. If a crime was committed, then our crime scene cleaners will cooperate with law enforcement, waiting until the investigation is complete to begin the restoration.
Biohazard Cleanup in Manalapan, NJ

Traumatic scenes are overwhelming to come across, but it is important that you know how to react in such a situation. Blood and other bodily fluids are among the biohazard materials commonly found at such scenes. These materials are hazardous because they may contain pathogens which can spread infection and disease. Because of this, it is crucial that only professionals with the proper training and licenses remove biohazard materials and clean the affected areas.
If you ever find a traumatic scene, stay away from it. Get in touch with law enforcement and EMTs. They are necessary personnel in such a case, but they are not responsible for scene cleaning and restoration as they do not have the training, knowledge, or equipment to do it properly. Because of this, you need to reach out to RestorationMaster for our biohazard and trauma scene cleaning services. Our technicians are properly trained and equipped to conduct the removal of biohazard materials and the restoration.
Crime Scene Cleaners in Manalapan, NJ

The biohazard cleaners we employ know that these situations can be tough to handle emotionally, which is why we are always respectful when conducting our work. We have the necessary training and equipment to remove biohazard materials. Furthermore, we always work according to OSHA and IICRC standards.
This guarantees the scene is restored thoroughly and safe to return to. We take a detailed approach to ensure thorough disinfection and biohazard removal.
The following are included within the biohazard cleanup we provide in Manalapan, NJ:
Thorough removal and correct disposal of biohazard materials
Effective disinfection and cleaning of the affected area to restore it to a safe environment
Foul odor removal through deodorization
Quality customer service
Privacy protection
Crime scene cleaners who follow regulations at the federal, state, and local levels
The following scenarios can be addressed by our biohazard cleanup services in Manalapan, NJ:
Serious accidents
Crime scenes
Hoarding
Natural death
Neglected property
Suicides
Free Estimate Crime Scene Cleaners in Manalapan, NJ
If your property was the scene of a traumatic event, then you need to call the necessary authorities and a licensed professional who will handle the cleaning process. Within our biohazard and trauma scene cleaning services, biohazard technicians and crime scene cleaners will remove all biohazards safely and clean your property thoroughly. We are always respectful in our approach, and we will work to make your home or business safe to be in again.
We can be reached 24/7 for our biohazard cleanup in Manalapan, NJ, by calling (732) 338-0713.
---
Related Biohazard Cleanup Services:
Crime scene cleaners in Neptune, NJ
Biohazard cleaning in Long Branch, NJ
Biohazard and crime scene cleaners in Matawan, NJ
Crime scene cleaners and biohazard cleaning in Union City, NJ
Biohazard cleanup in Elizabeth, NJ
Biohazard cleaning in Springfield Township, NJ
Biohazard cleanup in Manchester, NJ
Biohazard and trauma cleanup in Cranford, NJ
Biohazard and trauma cleanup in Manalapan, NJ
Biohazard Cleanup in Tinton Falls, NJ
Biohazard Cleanup and Trauma Scene Cleaners in Freehold, NJ
Biohazard And Trauma Scene Cleaning In Marlboro, NJ
Biohazard And Trauma Scene Cleaning In Jackson Township, NJ
Biohazard Cleanup and Crime Scene Cleaning in Wall Township, NJ
Biohazard Cleanup Services in Lakewood, NJ
Biohazard cleaning services in Red Bank, NJ
Biohazard Cleanup Services In Holmdel, NJ