ServiceMaster by Replacements
Not many natural disasters are worse than property fires as they put everyone's personal safety at risk while destroying everything they touch in seconds. It's a relief to know the fire is finally put out, but then all attention must be focused on the property restoration process. The smoke and soot byproducts emanating from the flames can quickly spread and damage the remaining surfaces. This is why it's crucial to call for professional fire damage restoration right away.
ServiceMaster by Replacements is available in Matawan, NJ to provide professional fire damage restoration to help homes and businesses recover from fires. Our professionals are both trained and experienced and we will respond right away to restore your property and personal belongings. We will also provide structural repairs, removing soiled building materials and installing replacements as needed.
Fire and Smoke Damage in Matawan, NJ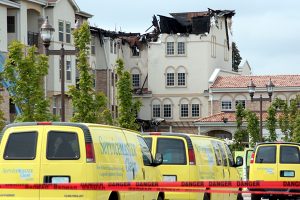 Fires can very quickly spread severe damage within homes and buildings. As soon as the flames touch building materials, furniture, or personal contents, they are burned to a crisp. The fire itself can also leave the property in an unstable condition.
Smoke and soot produced from the flames are also spreading throughout the property, leaving the surfaces covered in an oily residue and causing etching and tarnishing. These byproducts will continue to spread long after the flames are extinguished. This is why it's common for the smoke and odors to cause more damage than the fire itself.
The odors left behind are also embedded within the walls and floors because the particles become stuck within porous materials. They will need to be removed using professional deodorizers and cleaners.
Fire Damage Restoration in Matawan, NJ
Our technicians at ServiceMaster by Replacements are prepared to handle fire damage cases of all sizes. Our professionals are each trained and experienced to conduct emergency pre-cleaning for high risk items and conduct structural repairs to stabilize the property. We will also extract any odors left behind from the smoke and soot.
Our fire restoration services in Matawan, NJ include the following:
Pre-cleaning and stabilization: The property will first be stabilized to prevent additional damage or even collapse. Emergency pre-cleaning will also take place to prevent permanent damage to valuable items.
Removing permanently damaged items: Fires will cause a lot of destruction quickly, so we will remove these items and install replacement building materials as needed.
Soot cleanup: Our professionals use advanced cleaning products to remove the soot from various building materials and items.
Odor removal: Our odor-removing equipment, including hydroxyl and ozone technology will extract and eliminate all odors from the property.
Content restoration: Your damaged items will be carefully cleaned and restored, either onsite or at our 10,000 square foot warehouse.
The community of Matawan, NJ chooses to work with our team for each of the following reasons:
24/7 availability and emergency response: Our team is available 24/7 to respond to fire damage emergencies of all sizes.
Industry leaders: Our professionals are licensed and insured for your peace of mind, providing services that exceed industry standards.
IICRC-certified: Each of our technicians is IICRC-certified and follows all industry standards during the time of service.
Work with insurance: ServiceMaster by Replacements works with all major insurance carriers, coordinating with your claim adjuster.
Free Estimate Fire Restoration in Matawan, NJ

If your property has sustained significant damage from a fire, don't hesitate to contact ServiceMaster by Replacements at (732) 844-6232 for emergency fire restoration services in Matawan, NJ.
---
Related Fire Damage Restoration Services:
Fire restoration in Neptune, NJ
Fire restoration services in Manalapan, NJ
Fire damage restoration services in Long Branch, NJ
Fire damage repairs in Union City, NJ
Fire damage restoration in Elizabeth, NJ
Fire restoration in Springfield Township, NJ
Fire damage restoration in Cranford, NJ
Fire damage restoration in Manchester, NJ
May 16, 2017
Walter Biel
OCEAN GROVE, NJ
See All Reviews