ServiceMaster by Replacements
Few disasters are worse than a fire as fires put everyone inside in immediate danger and they cause devastating damage to homes and buildings.  Evacuating the building and having the fire put out is a relief, but the damage will continue to spread after the fire.  Smoke, soot, and other corrosive byproducts are left behind, and they can spread and cause damage to various materials and furnishings.  Calling for fire damage restoration as soon as the fire is out will limit the damage and increase the chance that your damaged property can be saved.
ServiceMaster by Replacements provides fire damage restoration to help repair and restore homes and buildings damaged by smoke and fire in Neptune, NJ.  Our fire restoration technicians will arrive as soon as possible after your call to help limit the damage and save as many of your belongings as possible.  We are trained and equipped to stabilize and repair structural damage and reverse the effects of smoke and soot.
Types of Fire Damage
Fires can result in severe damage to homes and buildings and the damage can occur in several ways.  The flames burn everything they come into contact with, including structural elements, furniture, and personal belongings.  The damage from the fire itself often leaves homes and buildings in dangerously unstable conditions.
Corrosive byproducts like smoke, soot, and oily residue are created when synthetic materials are burned in the fire.  These corrosive byproducts cause tarnishing and etching to affected surfaces and objects and they continue to spread after the fire is out.  It is common for smoke and soot to cause more extensive damage than the fire itself.
Smoke odors left behind after a fire are also a major issue.  These odors linger because the odor particles get trapped in porous building materials.  The odor particles must be neutralized with professional deodorization methods to effectively remove the odor.
Fire Damage Restoration in Neptune, NJ
The professionals of ServiceMaster by Replacements are prepared to handle any fire damage restoration project no matter the extent of the damage.  We are trained and certified to stabilize and repair structural damage, clean up soot and smoke damage, and remove lingering odors.  Our technicians will arrive quickly after the fire to save as much of your property and belongings as possible.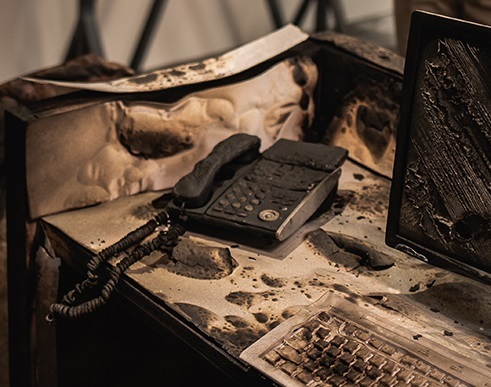 The fire damage restoration services we provide in Neptune, NJ include the following steps:
Stabilization and pre-cleaning: We will start by stabilizing the home or building to prevent additional structural damage or collapse. We can also help prevent permanent damage from smoke and soot with pre-cleaning.
Removal of damaged materials: It is inevitable that fires will cause some permanent damage. We will remove permanently damaged items and materials from the property.
Structural repairs: We will repair the structural damage to your home or building.
Soot cleaning: We use advanced cleaning products and methods to remove soot damage from various surfaces and objects.
Deodorization: Our professional deodorization methods will remove lingering smoke odors.
Content cleaning: We can take your soot and smoke damaged belongings to our state of the art, climate-controlled facility for thorough restoration and cleaning.
We are trusted by homes and businesses in Neptune, NJ for fire restoration for the following reasons:
Emergency response: We are available 24/7 to respond to fire damage emergencies and limit the extent of the damage.
Industry leadership: We are licensed and insured and provide fire and smoke restoration that meets and exceeds industry standards.
IICRC trained and certified: Our technicians are trained and IICRC certified in fire restoration and corrosion control.
Insurance capabilities: We work with all major insurance carriers and will cooperate with your insurance claims representative.
Fire Restoration in Neptune, NJ
You cannot hesitate to call for fire damage restoration once the fire is out on your property because the damage will only continue to get worse.  Our fire restoration professionals will arrive immediately to stop the spread of the damage and form a complete restoration plan to get your home or building back to its pre-fire condition.
We are available at (732) 844-6232 for emergency fire damage restoration in Neptune, NJ.
---
Related Fire Damage Restoration Services:
Fire restoration services in Manalapan, NJ
Fire damage restoration services in Long Branch, NJ
Fire damage restoration and repair in Matawan, NJ
Fire damage repairs in Union, NJ
Fire damage restoration in Elizabeth, NJ
Fire restoration in Springfield Township, NJ
Fire damage restoration in Cranford, NJ
Fire damage restoration in Manchester, NJ
May 16, 2017
Walter Biel
OCEAN GROVE, NJ
See All Reviews