ServiceMaster by Replacements
Fires are one of the most destructive causes of property damage. The flames are the immediate concern, but once you are evacuated to safety and the fire is put out, there is extensive damage that continues to spread across the property. Without fast action from a disaster restoration service, smoke, soot, and other hazardous byproducts from the burn materials will continue to damage the structure.
ServiceMaster by Replacements provides complete fire damage restoration in Springfield Township, NJ. Our fire restoration technicians are IICRC certified and trained to perform advanced fire cleanup methods for any size home or facility in the Springfield, NJ area. We will remove debris, apply fire damage repairs, remove smoke odors, and clean soot from surfaces. By the end of the fire restoration process, your property will be restored to its original condition.
Types of Damage Caused by Fire
It may seem that the extent of damage stops when the flames are put out, but this is rarely the case. The burning involved in a property fire creates a harmful variety of corrosive byproducts.
For example, soot and smoke continue to etch and tarnish surfaces and building materials well after the fire is put out. The structural integrity of the building is also put at risk for further collapse. Without quick action from a fire damage restoration service, the affected area is not safe to be around.
ServiceMaster by Replacements understands the extent of damage a fire can cause. This is why we respond to fire damage restoration cases with 24/7 availability in Springfield Township, NJ. The sooner our ServiceMaster fire cleanup crews can get on the scene, the more we can save and salvage of your home or business.
The Fire Restoration Process in Springfield Township, NJ
Our fire cleaning technicians have seen some of the worst cases of fire damage in the Springfield Township, NJ area. This kind of experience is necessary to perform the best possible fire damage cleanup for residents through Springfield, NJ, and surrounding areas.
The ServiceMaster way of fire restoration is thorough and effective. When our team arrives, debris removal will begin while we share details of the fire damage restoration process with you. We will also work with your insurance where applicable.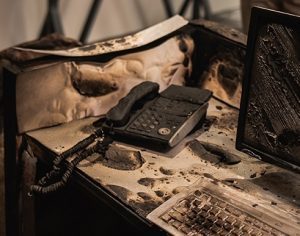 Our fire damage restoration services in Springfield, NJ include the following:
Evaluation of the extent of the damage and the source of the fire
Structural stabilization and repair
Removal of permanently damaged building materials and objects
Content cleaning and restoration including restoration of textiles and sensitive materials
Restoration of water damage caused when putting out the fire
Repair or removal of carpet and floor coverings
Smoke odor removal
Cleaning and restoration of surfaces and objects affected by soot, smoke, and other corrosive byproducts
Free Estimate Fire Restoration in Springfield Township, NJ
When you have evacuated safely and the flames are out, contact a professional fire restoration team to restore your property and salvage your belongings. At ServiceMaster by Replacements, we will conduct fire damage repairs, remove soot from surfaces, and perform smoke odor removal as we work to restore your property to a safe condition.
Call ServiceMaster by Replacements at (732) 844-6232 for total fire damage restoration in Springfield Township, NJ.
---
Related Fire Damage Restoration Services:

Fire restoration in Neptune, NJ
Fire restoration services in Manalapan, NJ
Fire damage restoration services in Long Branch, NJ
Fire damage restoration and repair in Matawan, NJ
Fire damage repairs in Union City, NJ
Fire damage restoration in Elizabeth, NJ
Fire damage restoration in Cranford, NJ
Fire damage restoration in Manchester, NJ
May 16, 2017
Walter Biel
OCEAN GROVE, NJ
See All Reviews