ServiceMaster by Replacements
Experiencing a death or major injury on your property is both dangerous and traumatic. These situations often involve biohazard materials such as bodily fluids and blood, which are likely infectious. If a traumatic event involving death or a serious injury occurs on your property, the first step is to contact the proper authorities. It is important to stay clear of the scene and call professionals who are able to clean up biohazard materials and crime scenes.
At ServiceMaster by Replacements, we offer biohazard cleanup services in Englishtown, NJ. Our team of professionals will ensure a safe and effective cleanup. We use advanced methods and equipment to remove the dangerous biohazard materials in order to restore the scene. We will wait for law enforcement to complete their thorough investigation as well as cooperate with them to restore the property.
Biohazard Cleanup in Englishtown, NJ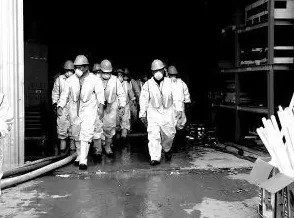 Experiencing a traumatic scene is overwhelming, but it is crucial to follow the proper steps in the aftermath to stay safe and restore your property. Bodily fluids, blood, and other biohazard materials can be found at these scenes, and they are likely to contain dangerous pathogens which spread disease and infection. Only licensed and trained professionals should attempt cleaning up and removing biohazard materials.
If such a traumatic scene occurs on your property, keep your distance, and call the proper authorities immediately. Even though these professionals are crucial for responding to the scene, they do not have the expertise or proper equipment to clean or restore the scene. In this case, contact us as we have the proper equipment and expertise to clean and restore scenes involving biohazard materials.
Crime Scene Cleaning in Englishtown, NJ
We understand that these situations are difficult and potentially traumatic. We approach each case with respect and compassion for the affected individuals. Our team is properly trained and equipped to remove biohazard materials while following OSHA and IICRC standards.
We provide biohazard cleanup for the following situations:
Hoarding
Natural death
Serious accidents
Suicides
Crime Scenes
Neglected property
Our biohazard cleanup services in Englishtown, NJ include the following:
Crime scene cleaners who comply with state, local, and federal regulations.
Deodorization in order to remove any odors
Complete and thorough cleaning and disinfection of the affected areas.
Proper disposal of all biohazard materials.
Protection of your privacy as we work through the project.
At ServiceMaster by Replacements, we are available anytime for emergency biohazard cleanup in Englishtown, NJ at (732) 338-0713.
---
May 16, 2017
Walter Biel
OCEAN GROVE, NJ
See All Reviews