How to Protect Your Basement from Rainwater Flooding
If you're a homeowner, discovering water damage in your basement is one of the most disheartening and stressful experiences imaginable. Worse yet, it can lead to costly repairs and lost belongings if not addressed quickly. But with the right preparation, you can prevent or at least minimize the damage that rainwater does to your basement and keep it dry. Let's break down how you can protect your basement from rainwater damage.
Tips for Protecting Your Basement from Rainwater Flooding
Maintaining your gutters is essential for preventing rainwater from entering your home. Clogged gutters prevent water from flowing away from instead of into your home, which is why you should regularly clean out leaves, branches, dirt, and other debris that accumulates in them over time. You may also want to consider investing in a gutter guard to help keep debris out of the system and reduce the amount of regular maintenance required.
Your downspouts are just as important as your gutters when it comes to protecting your basement from rainwater. Make sure that they are directing water away from the foundation of your house by extending them outward once they reach the ground. You may also want to install splash blocks under each downspout outlet to further redirect water away from your foundation.
Another effective way to protect against rainwater infiltration is by landscaping around the perimeter of your home's foundation. Planting shrubs or installing a border of rocks will help create an incline between where you want the water to go and where it shouldn't go–your home. This will then direct runoff away from the structure and toward a storm drain or other drainage areas around the house by creating a slope for it to travel along.
Sealing Foundation Cracks            
Finally, make sure any cracks in the foundation walls are sealed up with caulk or concrete sealer so that water cannot seep through them into your basement. If there are any large cracks in need of repair, contact a professional contractor who specializes in waterproofing basements—they will be able to properly assess the situation and provide an appropriate solution for keeping water out of your home's lower-level space.
What to Do if Your Basement Floods
Stumbling upon a flooded basement in your home can be an overwhelming experience. In the event that you find your basement already flooded, here are some steps you can take to address the situation: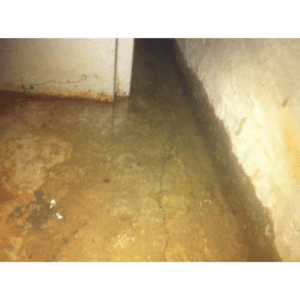 Turn off power sources: When water damage is found in a basement or a damp area, it is important to shut off any power sources such as electricity and gas to avoid any potential accidents. Never enter an area that has been flooded with water while the power is on; an electric shock can occur if you do not exercise caution. If you are unsure how to shut off the electricity and gas, it's always best to contact a qualified electrician before attempting to go into the room. Following these safety measures will ensure your well-being while you take care of the flooded area in your home.
Contact your insurance company: If you have flood insurance, it is important to call your home insurance company right away to report the damage caused by the flood. Discussing with an agent will help you confirm your coverage limits, deductible amount, and claim procedures in order to start the filing process. Doing so will get the claims process going and help prevent any further issues from arising later down the line. In addition, a home insurance representative can walk you through every step of submitting a claim for flood damage. Keeping this dialogue open will ensure that you stay informed and on top of getting reimbursed for any losses incurred by flood waters.
Reach out to a water mitigation professional: A flooded basement is not something to take lightly; standing water can cause irreparable damage not just to the structure of your home, but also to your belongings. In such a circumstance, swift action is necessary in order to minimize the damage and prevent further destruction.
  Call a Professional Water Damage Restoration Service in Fort Wayne, IN
Contacting a professional water damage restoration team is the best course of action, as they are experienced in cleaning and restoring flooded areas with proven repair techniques. Professional assistance ensures that everything from structural repairs to disposal of damaged belongings will be taken care of quickly and efficiently for maximum protection against further destruction.
Protecting your basement from rainwater damage is an important task for homeowners, as flooding can result in costly repairs if not taken care of quickly enough after it occurs. The key steps involved include maintaining gutters and downspouts, landscaping around the perimeter of the foundation walls, and sealing up any cracks that may be present in these walls with caulk or sealer. With proper prevention measures like these in place, you should be able to protect your home against any potential flood damage caused by heavy rainfall.