RestorationMaster
Water can get into your home or building in so many ways, and once it's inside, it can cause very serious problems.  Excess water and moisture spreads so easily through common building materials which will result in serious damage or mold growth.  It is very important to call a water mitigation specialist like RestorationMaster as soon as you find water in your home or building.  We provide professional water mitigation services in Indianapolis, IN to stop the spread of water and remove it from your property.  We can handle water damage from everything from a burst pipe to significant flooding.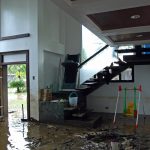 Water Damage Restoration and Flood Cleanup – Indianapolis, IN
Water damage happens more often than other types of property damage because there are so many potential sources that make it difficult to prevent.  Anything from a burst pipe, leak, or overflow to heavy rain or natural flooding can result in significant water damage in a home or building.  You must take action to stop the spread of the water immediately or you could end up with serious structural damage or mold growth.  RestorationMaster provides water damage restoration services to remove excess water or moisture from homes and buildings in Indianapolis, IN.  We use advanced water extraction equipment and dehumidifiers to dry and restore the affected areas.
Fires are major disasters that can quickly devastate your home or building and threaten the safety of everyone within.  The damage from a fire is often widespread and the secondary damage caused by the soot and corrosive byproducts after the fire may be even worse than the initial damage from the flames.  You must call for emergency cleanup services immediately after the fire department puts out the fire and leaves your property.  RestorationMaster provides fire and smoke damage restoration services in Indianapolis, IN to repair the damage clean up the effects of soot and corrosive byproducts.  Our technicians will work to contain the damage and start the cleaning right away to prevent the affected materials from becoming permanently damaged.
Mold can appear anywhere in your home or building at any time because it only needs a source of moisture to form and survive.  Once mold colonies appear on your property, they start eating away at the affected surfaces which results in serious structural damage.  Any hesitation to remove the mold will make it more likely for those within the home or building to experience mold-related health effects.  But RestorationMaster provides mold remediation services in Indianapolis, IN to detect and remove mold from homes and commercial buildings.  We will test the building for mold and make sure every trace of it is removed with advanced remediation methods.Carpet Cleaning Services – Indianapolis, IN
The carpeting in homes and commercial buildings contributes to the look and comfort of the space, but the consistent foot traffic it experiences causes a gradual buildup of dirt and debris.  Dirt, dust, and other debris slowly gather within the carpet fibers, which can wear out its color and even cause damage to the fibers.  It takes professional cleaning services to remove deeply embedded debris and restore the carpet's original appearance.  RestorationMaster provides professional carpet cleaning for homes and offices in Indianapolis, IN.  Our technicians use proven cleaning methods to remove stains and debris from your carpet and help extend its life.
Experiencing serious damage to your home or building is a very difficult ordeal.  Extensive property damage can interrupt your daily life by putting your home or building out of use, and dealing with the damage can be unbearable.  However, our technicians at RestorationMaster can help those in Indianapolis, IN who have experienced serious property damage with our construction services.  We will start by stabilizing the building to prevent further damage, and then carry out a complete construction plan to get it back to its original condition.
Almost any type of natural disaster can result in serious damage to the structural core and exterior of your home or building.  This type of damage often leaves the building unstable, and the building is at risk of collapsing unless it is quickly secured.  At RestorationMaster, we will quickly secure heavily damaged homes and buildings in Indianapolis, IN with our emergency board up services.  Our technicians will cover openings on the roof and exterior and ensure that the structural core of the building is temporarily stabilized.
For many property owners, sewage backups can cause severe destruction for all building materials and contents. There are also a number of causes, such as a clogged toilet and a burst sewage pipe, that make these dangerous messes common within homes and buildings. But RestorationMaster provides 24/7 sewage cleanup services for all residential and commercial properties in the Indianapolis, IN area. Our technicians have years of experience in extracting dangerous sewage water and preventing additional damage during the cleanup process. Our advanced cleaning products, equipment, and methods will ensure a seamless process, providing you with updates and answering your questions along the way. With our services, you can look forward to a clean and sanitary environment in no time.
Encountering a scene filled with biohazardous materials cannot only be disturbing, it is extremely dangerous. Because there a number of dangerous bacteria and pathogens, coming close to the blood and tissue can pose a serious health risk to you and your loved ones. But RestorationMaster is available 24/7 to provide emergency biohazard and trauma cleanup services for both residential and commercial properties in the Indianapolis, IN area. Our technicians are fully trained and experienced to use professional cleaning products and equipment to remove all blood, tissue, and other bodily fluids from the scene. We also work with insurance companies, family support counselors, and law enforcement to allow seamless cleanup process while you focus on personal matters.
At RestorationMaster, we utilize a time-tested 3 phase approach for our hoarding cleanup services in Indianapolis, IN. Phase 1 involves the development of trust. By building a relationship with those suffering from hoarding disorder, we can more effectively clean the property. Phase 2 is when we sanitize and restore the affected home (we consult with hoarders to determine which items to keep, throw away, donate, or recycle). Phase 3 entails the creation of an at-home cleaning plan that is left behind to help affected individuals manage their condition. We will then follow-up periodically.
---
Related Restoration and Cleaning Services
Disaster Restoration Company in Fishers, IN
Disaster Restoration Services in Greenwood, IN
Disaster Restoration and Cleaning Services in Carmel, IN
Disaster Restoration and Cleaning Services in Noblesville, IN
Damage Restoration Company in Westfield, IN
Disaster Restoration and Cleaning Services in Zionsville, IN