(317) 215-5199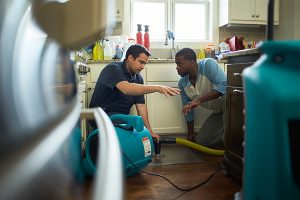 Water is the most common cause of property damage in homes and buildings and it also has the potential to cause extensive damage.  The porous building materials in your home, such as drywall, wood, flooring, and insulation absorb water and allow it to spread deeper into the home, increasing the risk of serious damage and mold growth.
Taking immediate action when you notice water damage can help prevent serious structural issues and mold.  ServiceMaster by Crossroads provides water damage restoration services in Indianapolis, IN to remove water and moisture and thoroughly dry affected materials.  We can handle the removal of standing water with our advanced equipment and we will ensure that the affected area is thoroughly dried to prevent further issues such as mold growth.
Water Damage Cleanup
The reason water damage occurs more often than other types of property damage is because there are many ways it can happen.  Water damage may result from heavy rain or flooding that has seeped into the home or building, as well as burst pipes, leaks, overflows, and other internal problems.  Excess water causes damage by getting absorbed into furnishings and porous building materials which can lead to warping and weakening of the materials.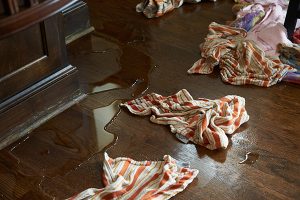 It is also possible for excess water and flooding to create electrical hazards.  Mold growth is another serious issue that can result from water damage as mold typically grows in an environment with a source of moisture.
Because water damage has the ability to spread, you must call ServiceMaster by Crossroads as soon as possible to contain the damage.  Our technicians will stop the water at its source and remove it from your home and affected materials with our advanced water extraction and dehumidification equipment.
Our water restoration process consists of the following steps:
Inspection: We will evaluate the damage to your property upon arrival and develop a restoration plan based on our assessments.
Extraction: If there is excess water, we will use industrial equipment to extract the water on the property so the building materials will not be damaged further.
Dehumidification and Moisture Control: After the water has been removed, the technicians will start the dehumidification process. It is very important to remove moisture from the affected objects and materials. Excess moisture can lead to problems such as mold growth. We use industrial equipment for all dehumidification processes.
Deodorization: Sometimes the flood and excess water can result in musty odors. We will provide deodorization services to make sure that you can return to your lives normally without having to deal with any bad smells.
Water Damage Repair – Check Out this Video
Contact ServiceMaster by Crossroads at (317) 215-5199 for professional water damage restoration services.
You can expect the following from our water damage restoration services:
24/7 Response: ServiceMaster by Crossroads is available 24 hours a day to respond to water damage emergencies.
Best Methods and Technology: Our technicians arrive with state-of-the-art water extraction and drying equipment and we use the best methods available to completely dry the building and damaged materials.
Insurance Capabilities: We work with insurance companies in the Indianapolis area and we can help you coordinate your claims.
IICRC Standards: Our technicians are IICRC-certified to provide effective water damage restoration to the highest standard of the industry.
Contact ServiceMaster for Water Damage Cleanup
No amount of water damage should be ignored because it can quickly spread deeper into your home or building and lead to much bigger problems.  ServiceMaster by Crossroads is ready to help homes and business in the Indianapolis, IN area with our professional water damage restoration services.
You can reach us 24 hours a day at (317) 215-5199 for all water damage emergencies.
---
Related Water Damage Cleanup Services:
Water Damage Restoration in Greenwood, IN
Water Damage Restoration Company in Fishers, IN
Water Damage Cleanup Company in Carmel, IN
Water Damage Restoration in Noblesville, IN
Water Damage Restoration Company in Westfield, IN
Water Damage Restoration in Zionsville, IN
---
Recent Reviews
---