An unfortunate reality in this world is that disasters do occur. Whether they are natural or man-made, it is important that you take the correct actions to minimize any damage done to your property.
Our experts here at ServiceMaster by Crossroads have the experience to stabilize homes and other structures, providing board up and tarping services in Indianapolis, IN after catastrophe strikes.
Boarding Up After a Disaster Strikes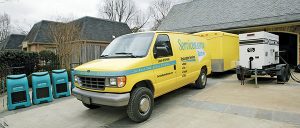 When it comes to disasters such as floods, fires, tornadoes, severe storms, and devastating accidents, there is sometimes little one can do to take preventative action. If your property is damaged, it is vital that you get it stabilized swiftly. Our emergency board up services do this and more for buildings in the Indianapolis area. We secure homes and other structures in order to prevent any further destruction from taking place in the time it takes to begin restoration efforts.
Here at ServiceMaster by Crossroads, we try to give you as much peace of mind as possible when these sorts of tragic events arise. Some of what we provide, depending on what the situations calls for, includes, but is not limited to:
Barricades
Roof Tarping
Temporary Enclosures
Closing of All Openings and Holes
Stabilizing the Structure
Just because a building is still standing does not mean that it is safe. Deep structural damage may have taken place, and this might not be immediately evident. This is why we encourage you to take advantage of our board up services until crews can come and evaluate the extent of the damage in order to begin restoration work. If a structure is unstable, it may take some time before it collapses entirely, but our services minimize this possibility.
In some cases, siding and windows may be destroyed. This can leave rather large openings in your home or building, which invites the outside world in. Destructive wind, water, or pests will likely take advantage of this. Our quick board up services will mitigate this risk, as well.
The same goes for roof damage. The last thing you need is for water to slowly leak into all areas of your home. If left unattended, this will inevitably occur due to a damaged roof. We can quickly assess the situation, and provide roof tarping services for buildings that need it.
Emergency and Professional Services
Essentially, when you choose ServiceMaster by Crossroads for your emergency board up services in the Indianapolis area, you are choosing time-tested stabilization work provided by our highly skilled technicians. We understand that damage to your home and other property can be traumatic. This is why we do everything we can to ease you through the process of rebuilding. To do this, we will secure any home or building in need, and promptly. We will never leave you hanging out to dry.
Emergency Response
If any of your property in the Indianapolis area is in need of emergency board up services, we encourage you to call ServiceMaster by Crossroads at (463) 227-0790 . We are available 24 hours a day, and will get service crews to you as quickly as possible.
---
Related Board Up Services
Emergency Board Up and Tarping in Fishers, IN
Board Up Services in Carmel, IN
Emergency Board Ups Company in Greenwood, IN
---
Recent Reviews
---