Experiencing a fire in your home or building is a very difficult ordeal because it can cause a large amount of damage to your property and threaten your personal safety.  The widespread destruction to your home or building in the aftermath may leave you feeling overwhelmed and helpless, but you must take immediate action or the damage can become worse.
Smoke, soot, and other corrosive byproducts cause secondary damage after the fire which may spread even further than the initial damage.  ServiceMaster by Crossroads can restore order to the situation with our fire damage restoration services in Indianapolis, IN.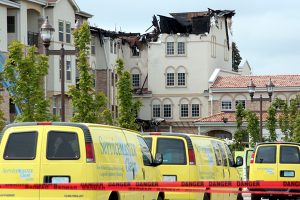 Fire Damage Restoration
Our technicians can repair and restore the damage caused by the fire and smoke to get your home or building back to its pre-fire condition. With knowledge of repair methods and their ability to work quickly, our experts can return your home to its original state in no time. With their years of experience, they know that quick fire cleanup can minimize your losses after the fire has been extinguished.
Fire Damage Repair – Check Out this Video
Give us a call at (463) 227-0790 to reach ServiceMaster by Crossroads in Indianapolis, IN.
Fire Damage Restoration
Everyone is well aware of the type of damage that flames can cause to a home or building.  However, fewer people understand the extent of the secondary damage caused by byproducts of the fire.  Fires leave behind smoke, soot, and corrosive byproducts that are formed when synthetic materials are burned.
Each of these materials can affect various surfaces, furnishings, and other objects in the home, leaving them burned or discolored.  Many of the objects affected by smoke and soot can become permanently damaged unless they are restored quickly.
Fire Damage Repair
At ServiceMaster by Crossroads, we are prepared to repair the damage caused by the fire, as well as restore objects and materials affected by the corrosive byproducts.  We use the most powerful cleaning products available to remove tarnishing and etching from a wide range of household surfaces and objects.  Our technicians will also stabilize and repair structural damage caused by the fire.
With these services we will, start cleaning within a few hours of your initial call, and will work with you the fire damage cleanup to help you make the best decisions about repair, restoration, or replacement of your property. Our emergency cleanup also includes removal of smoke damage and water restoration service, often necessary after the fire is out.
Cleaning, deodorizing and restoring personal property is also part of the process after a home suffers fire damage. Once we have determined which items are salvageable, we will decide which cleaning methods and restoration techniques will be most effective making the items usable again.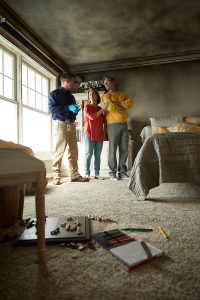 When you contact ServiceMaster by Crossroads for fire damage restoration, you can expect the following:
Emergency Response: We understand that a quick response could mean the difference between permanent damage and salvaging your property, which is why we are available 24 hours a day.
IICRC Certification: Each of our technicians has been IICRC certified in fire mitigation and corrosion control and we use the latest methods to restore as much of your property as possible.
Insurance Assistance: We work with insurance companies in the area and we can help you figure out your insurance claims.
Contact Us for Emergency Fire Damage Restoration
At ServiceMaster by Crossroads, we are trained experts in fire restoration. In the aftermath of a fire, you cannot hesitate to call a professional for fire damage restoration.  The secondary damage will continue to get worse and may even cause permanent damage to objects throughout your home.
We are ready to provide fire damage mitigation for homes and commercial buildings in Indianapolis, IN that have experienced severe damage.
You can reach us 24 hours a day at (463) 227-0790 to respond for all fire-related emergencies.
---
Related Fire Damage Restoration Services
Fire Damage Restoration in Zionsville, IN
Fire Damage Restoration services in Greenwood, IN
Fire Damage Restoration in Fishers, IN
Fire Damage Restoration in Carmel, IN
Fire Damage Restoration in Noblesville, IN
Fire Damage Restoration in Westfield, IN
---
Recent Reviews
---