(317) 215-5199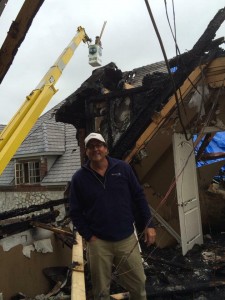 Apart from water damage, property fires are among the most common natural disaster experienced by property owners. Extremely dangerous to you and your building structure and content, there are numerous sources within the home or building that can easily cause a spark or ignite a flame. These can include: candles, ovens and stovetops, cigarettes, grilling, matches, lightning, and more. As soon as you notice that a fire has occurred or smell smoke, do not hesitate to contact the fire department.
After the flames have been extinguished, quick action must be taken in order to save as many building materials and content as possible. Do not hesitate to call ServiceMaster by Crossroads for fire and smoke damage restoration services if you are in the Greenwood, IN area. Our technicians will arrive right away to perform the initial inspection, develop a custom restoration plan, and immediately begin cleaning the oily soot residue from the affected surfaces.
Fire Damage Restoration
When started, preventing a fire from causing destruction can be very difficult as the flames will be quick to consume your property. While firefighters will take all measures to put out the fire as quickly as possible, there will be much smoke and soot that are left to cover the remaining surfaces.
These byproducts will cause the most destruction to your structure, causing etching and tarnishing if treatment is not made in a timely manner.
In addition, the flames may have left the property in an unstable condition after consuming the structure, opening it to the risk of collapsing.
Fire Damage Cleanup
For emergency fire damage restoration services in the Greenwood, IN area, contact ServiceMaster by Crossroads at (317) 215-5199.
Fire Damage Cleanup
When called right away, ServiceMaster by Crossroads will arrive right away to stabilize the structure of your home with emergency board up services. As soon as it is no longer at risk of collapsing, the specialists will begin the restoration process.
As soon as the initial inspection and restoration plan have been made, our technicians will begin working to remove all smoke and soot residue from the affected surfaces.
Although there are steps you can take to accelerate the fire and smoke damage restoration process, it is very important to not use any home products on the affected materials. This is because it can rub in the smoke and soot particles further into the surfaces. In this case, it is best to allow the technicians to apply professional products.
Fire Damage Restoration – What to Do:
Call ServiceMaster by Crossroads right away for fire damage cleanup.
Throw away any food that was exposed during the fire. Create an inventory of all items thrown away for insurance purposes.
Open the windows and doors to air out the property.
Place double layers of cheesecloth over the air supply and return registers.
Change the HVAC filter.
Cover all furniture with bedsheets to prevent additional soot from settling into the fabric.
Open all cabinets, drawers, and closets to air them out properly.
Fire Damage Restoration – What NOT to Do:
Do not enter any room with severe structural or electrical damage.
Do not eat any food that was present during the fire.
Do not use any appliance that came into contact with the fire.
Do not try to clean any building material or personal items yourself.
Do not turn on the ceiling fan if the ceiling is wet.
Do not touch any of the damaged surfaces.
The following procedures are included in our fire and smoke restoration services:
24-Hour Availability and Immediate Response: ServiceMaster by Crossroads is available at any time and will arrive right away to start the restoration process.
IICRC-Certified: Each of our technicians have been fully trained and certified to provide services that comply with IICRC standards to have your property restored to a like-new condition.
Assistance with Insurance: To allow you to focus on other matters, we will work with your insurance provider during the claims process.
In the event that you have a fire on your property, action must be taken immediately in order to prevent as much time and costs in repairs as possible. Although it is a stressful situation, ServiceMaster by Crossroads specializes in fire damage restoration and will ensure as much ease and peace of mind as possible with professional services.
Emergency Response
Call us for any fire emergency you experience in the Greenwood, IN area at (317) 215-5199. We are available 24 hours a day.
---
Relate Fire Damage Restoration Services
Fire Damage Restoration in Zionsville, IN
Fire Damage Restoration Services in Indianapolis, IN
Fire Damage Restoration in Fishers, IN
Fire Damage Restoration in Carmel, IN
Fire Damage Restoration in Noblesville, IN
Fire Damage Restoration in Westfield, IN
---
Recent Reviews
---