Experiencing a natural disaster is at the very least, unsettling, especially if it has a damaging effect on your property.  Many types of natural disasters including flooding, fires, and storms, can seriously damage the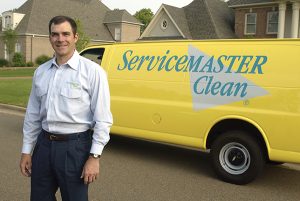 exterior, roof, and structural core of a home or building.  This type of damage is dangerous because it leaves the building open to further damage from outside elements, as well as possible collapse if there is deep structural damage.
ServiceMaster by Crossroads provides emergency board up services in Fishers, IN to secure homes and buildings that have sustained serious exterior or structural damage.  We can provide temporary security and stabilization with these services to prevent further issues until the home or building is rebuilt.
Additional Damages to Unstabilized Property
Severe structural or exterior damage to a home or building creates a very serious situation.  Openings in the siding and roof leave the interior vulnerable to water damage as rain and flooding can easily enter.  The damage can also be worsened by unwanted intruders such as animals or vandals.  The most dangerous aspect of serious structural damage is the risk of collapse.  Unstable homes or buildings continue to experience further damage that can lead to collapse which is why they must be stabilized and secured as soon as possible.
The technicians of ServiceMaster by Crossroads can provide effective emergency board up services to temporarily secure homes and buildings while you arrange for reconstruction services.  We will cover up holes in the siding and roof of the building to protect it from the weather and vandalism, and we can also stabilize the structure of the building to prevent collapse.
Our emergency board up services consist of the following:
Board up of any openings in the siding or roof
Roof tarping
Temporary enclosures
Barricades if needed
You cannot hesitate to act if your home or building experiences severe exterior damage or damage to its structural core.  Any hesitation might lead to further damage or worse.  ServiceMaster by Crossroads can quickly stabilize and secure homes and commercial buildings in Fishers, IN with our board up services. 
Emergency Response
We are available 24 hours a day at (317) 215-5199 for emergency board ups.
Related Board Up Services
Board Up and Tarping Services in Indianapolis, IN
Emergency Tarping Services in Carmel, IN
---
Recent Reviews
---