In the Fishers, IN, area, there are a number of individuals deeply affected by hoarding tendencies. This may seem minor at face value, but the array of dangers that hoarding presents cannot be overlooked. At ServiceMaster by Crossroads, we provide complete hoarding cleanup services to return your property back to a safe and livable condition.
The Dangers of Hoarding
Hoarding situations are more complex than they seem because of the significant psychological factors at play. Affected individuals experience extreme anxiety when faced with throwing items away, and often feel too embarrassed to seek help. We say this because, in our experience, even a little bit of understanding can go a long way.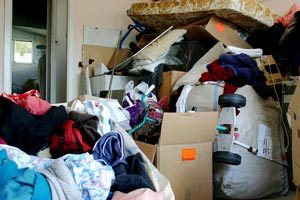 Before we explain the various dangers associated with hoarding, it is important to note that the hoarder is not the only individual who must endure these risks. So too must any of their family members and visitors. If you have a close relationship with somebody who struggles with hoarding disorder, ServiceMaster by Crossroads encourages you to reach out to them.
To gain a better understanding of the most common risks associated with hoarding, please see below:
Fires: Extreme clutter in various places can create a number of fire hazards within the home. To make matters worse, if a fire does occur, it will do even more damage than usual because of the extra fuel to burn.
Bacterial and Mold Growth: Because many areas are not cleaned, bacteria and mold can easily take hold and spread. When this happens, anybody who is exposed can be at risk of suffering from a number of health complications.
Allergen Buildup: Similar to mold and bacterial growth, allergens can amass in your Fishers, IN home. This can lead to significant health risks, as well.
Falling Items: In many hoarding situations, loose items are stacked on top of one another. Sometimes they will fall on top of, or trap, individuals.
Blocked Exits: If an emergency does take place, many avenues of escape will likely be blocked, which can result in tragedy.
Professional Hoarding Cleaning
Through our hoarding cleanup services, you and your loved ones will not need to worry about the above dangers anymore. We make use of a time-tested approach in these situations that has an enormously high success rate. When you work with us, you can expect the following:
The development of trust before any items are removed from the home
The creation of a restoration plan for your property
Consultation regarding which items to keep, throw away, recycle, or donate
Implementation of our restoration plan
Full sanitization of your property
Follow-ups to check in on your progress after we leave
Contact Us for a Free Estimate
If you are struggling with hoarding tendencies, we encourage you to contact our ServiceMaster by Crossroads representatives at (317) 215-5199 for hoarding cleanup services in Fishers, IN.
---
Related Hoarding Cleaning Services
Hoarding Cleanup Services in Zionsville, IN
Hoarding Cleaning Services in Westfield, IN
Hoarding Cleaning Services in Noblesville, IN
Hoarding Cleaning Services in Indianapolis, IN
Hoarding Cleanup in Greenwood, IN
Hoarding Cleanup in Carmel, IN
---
Recent Reviews
---